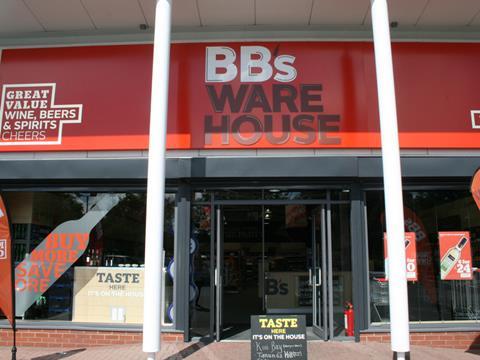 Flanked by rabbit hutches and hay bales, BB's Warehouse sits next to a pet superstore on the outskirts of Wakefield city centre. Opened by Conviviality Retail yesterday as a brand that will be "bold, fun and democratic", the store is based on the premise that the more you buy, the more you save. The Grocer went along to have a nose.
Conviviality owns both Bargain Booze and Wine Rack, but other than the initials in the store's name, Conviviality assures me the brand is a far cry from its Bargain Booze cousin. This is the first and at present only BB's Warehouse, but the company has said it is scouting for other locations.
"We were drawn to this location not because of the specific location or even the region, but because of the space in the store," says a spokeswoman. Situated on the site of a former Rhythm & Booze store, the premises have been modified to suit the purposes of the new venture. "For a start, the ceiling was raised to add light and to expose the beams and pipework to give it a real warehouse feel. Then, because most of our stock is out here, on display for the customer, we didn't need as big a stockroom as they had so we knocked that back and opened up the store, again to lighten it up."
The store certainly feels airy, though I'm sure is as much to do with the inviting blast of cold air from the air-con as the raised ceiling.
Half-opened multipacks of Carling and Strongbow sit on pallets close to the door, aimed at the grab-and-go barbecue crowd. Even though the aim of the store is to promote bulk-buy offers, the hanging signs manage to draw your attention, promising savings and offers without being garish. Indeed the store feels welcoming enough, with hardwood flooring and friendly, smiling staff.
The stock isn't all piled on pallets. BB's has dedicated a 'Love Local' section of the shop to local beers including bottles of ale from Wharfe Bank Brewery, alongside stacks of Yorkshire crisps in tubs. If the BB concept is rolled out nationwide, a local unit will be a feature in every store.
For those with a refined palate there is a premium wine section where the bottles (some appropriately covered in dust) nestle in crates alongside one of the walls. There's even a selection of British Straw Hat Wines. Thanks to Conviviality's ownership of Wine Rack, Murphy says the company has a special wine buying team which includes a Master of Wine. It's because of this, she says, BB's Warehouse "takes wine so seriously". This would explain the presence of a bottle of Macedonian Red Vranec from the Stobi Winery – a hit with wine connoisseurs.
Chilled cabinets with single bottles of beer, cider and white wines allow customers to pop in and leave with something to cool them down during the summer heat wave. And at the back of the store, BBs offers multipacks of wine glasses, paper plates and snacks such as crisps, sweets and chocolate.
It doesn't feel "cheap", but the offers are certainly generous. BB's current standout offer is bottles of Hardy's red for £4 each in easy-to-reach boxes near the tills. Bottles of spirits including Gordon's Gin are being sold as part of their Mix and Match offer: any three spirits for £40.50.
So what to make of BB's first impression? It's certainly got enough exposed piping and wooden pallets to have an authentic warehouse air (in much the same way that Shoreditch hipsters live in converted "warehouses"), but otherwise it's a pleasant shop with high ceilings and wide, browsable aisles. The only downside? Perhaps for a store that targets bulk buying, it could do with a bigger car park.
Time will tell whether BB's Warehouse proves a durable concept nationwide, or a one-off in Wakefield.