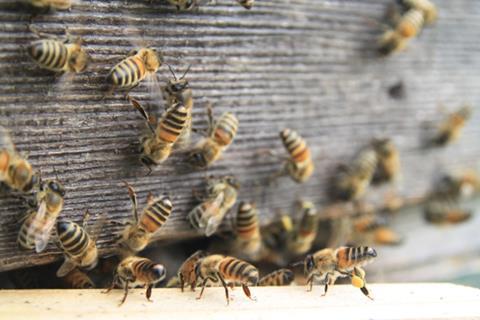 Bidfood is to build bee 'hotels' as part of a campaign to help save the species.

The wholesaler's pollination campaign will create bee-friendly gardens, donate sugar and sponsor hives to raise awareness of declining colonies in the UK.

It said the decline in honey bees was "an important issue for the food industry" as 90% of the world's nutrition is supplied by 70 of the top 100 crops pollinated by bees.

"One in three bites of food is only possible thanks to bees pollinating our crops," said Bidfood site excellence manager and lead beekeeper Mike Apps.

"It's easy to take something so small for granted, but the importance of bees to the food industry, and our survival, is huge.

"Our campaign is already gathering a great deal of momentum across the business. Addressing the issue doesn't necessarily require owning a hive; planting the right flowers can help bees to pollinate and flourish for future generations."

All of Bidfood's 24 sites will take part in the year-long campaign with the aim to create a healthy environment for bees.

British Beekeepers Association director of communications Dr Ivor Davis said: "We are delighted to see Bidfood spreading the word about the importance of bees and taking on such an active role at each of its sites.

"Honey bees, bumblebees and solitary bees, as pollinators of commercially grown insect-pollinated crops in the UK, have an estimated economic value of over £400m per year. However, due to the expansion of global trading in recent years, bees are threatened by new parasites and diseases that have been brought into this country by error.

"This policy by Bidfood will help us all protect our valuable army of pollinators."

Fruit trees, bee-friendly plants and flowers have already been planted at the wholesaler's Paddock Wood depot, which currently houses three hives and around 300,000 bees.