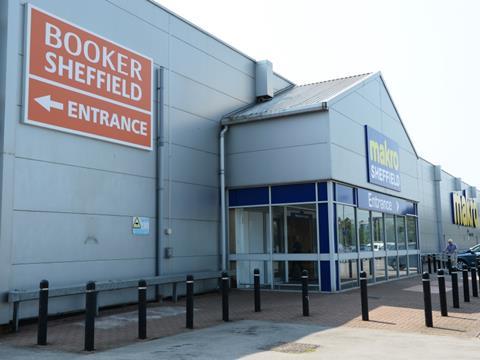 Booker's headline full-year figures released last week were as impressive as always, with group pre-tax profits up 25% to £118.7m and sales up 17.3% to £4.7bn in the year to 28 March.
But buried on page six was arguably the most impressive figure of all - Makro, the struggling wholesaler it acquired in April last year, is back in profit. In just 342 days under Booker ownership, it has made £11m profit. That's more profit than 20 companies each recorded on The Grocer's 2014 ranking of the UK's Big 30 wholesalers.
As Booker explained in its results: "This is the aggregate of an estimated base operating loss of £15m for Makro and group synergy benefits in the year of approximately £26m across the group."
"Makro is now making a real contribution to the group," chairman Richard Rose added.
Indeed, though Booker describes the turnaround as "on track", it is ahead of plan. In October 2012, Booker predicted Makro would contribute £10m of operating profits in 2013/14.
So, aside from synergy benefits, how has Booker turned around the fortunes of the loss-making wholesaler so quickly? And what next for Makro?
The Metro-owned UK cash and carry first fell into the red in 2006, blaming investment in remodelling depots and in new technology for a pre-tax loss of £3.5m. By 2013, aggregate losses exceeded £200m (see left).
CEO Charles Wilson describes the turnaround as "fantastic" and credits the "rapid" improvement to improving systems, processes and buying across the enlarged group. It also helps that Booker claims there has been "no surprises or shocks".
In October 2012, Booker revealed it planned cost savings of some £26m from Makro including £6m of savings already actioned by Makro, £4m in supply chain, £2m in goods not for resale, £12m in the cost of goods, £5m on improved margins in fresh and £3m in rent/rates savings on branches. These savings have now been realised and Booker is expecting further cost savings of £4m in 2014/15 and £2m in 2015/16.
According to Wilson, the Makro business has also "exited some unprofitable product categories" such as electrical and clothing, which "don't help our professional customers".
Sales loss in year ahead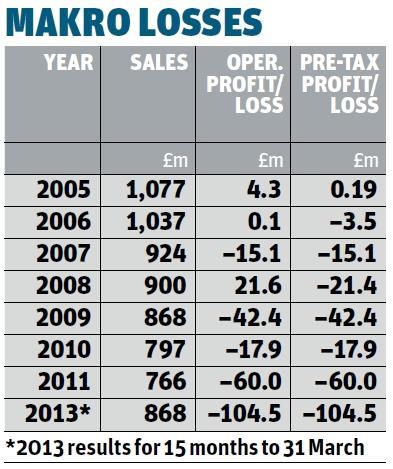 This meant Makro's sales were down 9% last year - a situation Wilson does not expect to improve in 2014/15. "Makro will continue to experience a sales loss in the year ahead as we continue to focus on professional customers," he says.
Booker has shown a disciplined approach to achieving synergy benefits. In June last year, The Grocer revealed it had aligned Makro prices to its own, angering indies when Makro's tobacco prices increased as a result. And in the same month, it also held a supplier conference to outline the benefits of the businesses coming together - and then asked suppliers for a lump sum payment.
But crucially, the changes Booker has made to Makro's 30 depots are taking shape. In October 2012, Wilson laid out his masterplan for Makro. This involved taking the underutilised depot space in larger Makro depots to introduce Booker delivery areas.
Three of these depots have already been created - in Sheffield, Belfast and Preston. As well as delivery areas, the depots are tailored to the local market and have taken the best of both Makro and Booker to enhance the existing offer, such as Booker's Euro Shopper range for retailers and Makro's fresh fish offer.
Wilson says this 'best of both' approach is working. On the performance of Sheffield, Belfast and Preston, he says: "We are very pleased. Customer satisfaction, sales and profits are all coming together. They are all pretty much where we wanted them to be."
Group sales aim for £6bn
Five further depots will get the treatment this year, including Enfield, Park Royal and Charlton. The delivery areas being created have increased Booker's capacity to grow its delivered sales, currently at £1.3bn versus £3.4bn for C&C. And Wilson believes they will play a major role in growing the group's sales to an estimated £6bn in the next few years.
Makro has also opened Booker up to new customers, especially hotel, restaurant and catering (horeca) businesses. Thanks to Makro, Booker now serves 903,000 SMEs and sales from those customers have increased from £700,000 in 2010 to £400m this year.
In Belfast, Booker has entered Northern Ireland for the first time. There is already a "huge amount" of interest for Booker's symbol fascia Premier, with the first stores likely to open there later this year.
Among other changes, all of Makro's depots now operate on Booker's systems. And Booker says customer satisfaction scores for the Makro business have increased from 78.6% in 2006 to 84% in 2014 after Makro staff were trained in Booker's customer service mantra PRIDE - improve the Parking, Reception, Internal, Delivery and Exit experience. Although the 84% is Makro's "best-ever" customer satisfaction score, it is still lower than the 87.3% for Booker depots.
There is still much to do, but analysts are confident Wilson's masterplan will work. "Despite subdued food inflation and the increased competitive environment, we expect Booker sales to remain healthy," say analysts at JP Morgan Cazenove.
Investec analyst Nicola Mallard adds: "Wilson has a proven formula, which worked on the original turnaround of the Booker business - Focus, Drive and Broaden. With Makro still in the Focus phase, there is more progress to come."