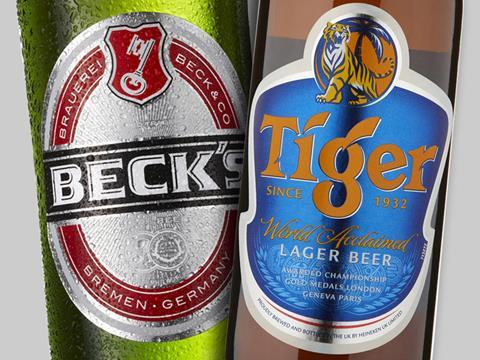 Brakes has entered the beer and cider market by launching a comprehensive range of popular world brands.
Accompanying the recently launched wine range, foodservice customers will be able to order the specially selected bottled beer and cider from this month.
The lager range includes Peroni, Heineken, Kronenbourg, Tiger, Asahi, Birra Moretti and Sol, sold alongside flavoured cider brand Old Mout in Passion Fruit & Apple and Pomegranate & Strawberry flavours.
Brakes will be buying direct from the suppliers and aims to appeal to one-drop food and alcohol delivery customers such as healthcare caterers and care homes, where alcohol is a secondary consideration after foodservice.
"The success of our recent wine launch proves that there is a market amongst our customers for consolidated food and alcohol deliveries," said Brakes category manager Aaron Friend.
"By delivering top-flight beer, cider and ale brands alongside our grocery and fresh food supplies, we are taking a holistic approach and making life easy for our customers who will no longer have to rely on co-ordinating supplies or visiting the cash & carry."