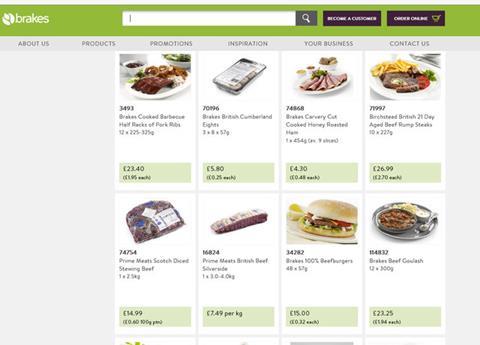 Brakes is publishing price lists for the first time in five years in a bid to give its foodservice customers more transparency.

The foodservice giant, which has negotiated prices individually with customers since 2011, has decided to publish consistent pricing across all its print and online channels.

Customers can now shop the same prices across any channel and also arrange a variable trade discount with their Brakes sales representative depending on their level of spend. Discounts can be as much as 30% and are applied at invoice.

Sales reps can also offer flexibility on the quantity discount and diverge by up to 10% to give customers a bespoke deal.

Brakes has also chosen 40 bestselling products, which will now be competitively priced but exempt from the variable discount, to attract new customers to the offer.

The new pricing will change bi-annually in March and September and is currently available to existing online customers. It will be available to new customers in November.

"A lot of our customers told us they like to browse, shop our range and make buying choices," said Brakes pricing director Charlie Burton.

"For smaller catering operations, that want to refresh their menus and run specials or have a buffet day, that makes perfect sense, but all of this relies upon them being able to access the full range and make buying decisions there and then. Because we didn't tell them the price of products before they placed an order, it made it extremely difficult for them to do that."

Pricing will feature in the Brakes annual list as well as in promotional brochures throughout the year.

Brakes said that although the move to transparent pricing would reveal information to its competitors, it was a "marginal risk" and said the "opportunities greatly outweigh the risks".