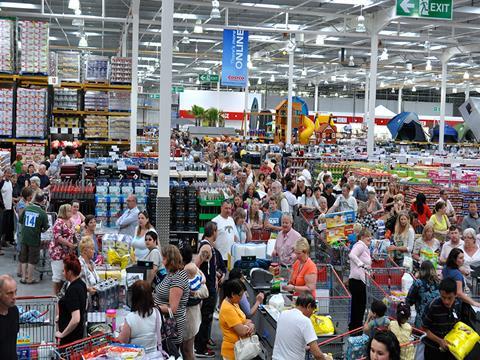 Costco could launch a grocery delivery service from its UK warehouses following its US parent's launch of two models in the states.

Steve Pappas, senior vice-president of Costco Europe, said there was "real room to grow in terms of grocery and there's some things happening in the US where we are doing one-day and two-day grocery deliveries out of the warehouses.

"We are watching it very closely. We think there's a potential application for something similar here."

Costco launched CostcoGrocery offering two-day delivery on dry grocery items, and a same-day delivery offering both fresh and dry grocery items through a partnership with Instacart in the autumn of last year.

"It's early stages in the US, so it's something we're looking at but we're not yet ready to commit on any dates," said Pappas.

Pappas said Costco was looking to integrate its online and what it calls its "inline" business more. "Our online at this time is focused on consumer items but there's real room to grow in terms of grocery.
"We see online as a perfect complement to our inline warehouse business and I believe we're only scratching the surface of our online potential in the UK."

Costco is currently on track to open its 29th UK warehouse next summer. The new 150,000 sq ft depot in Stevenage, Hertfordshire is bigger than its 135,000 sq ft average and will also have a petrol forecourt.

It currently has 13 petrol filling stations in the UK and has planning consent for others in Leicester and Southampton, which should be opening next spring or summer.

Costco is conservative when it comes to expansion in the UK and is wary of overextending its reach.

"We are just going to grow organically and as the opportunities present themselves."

He pointed out that planning rules specified it must derive 65% of its business from trade, which he said was a challenge.