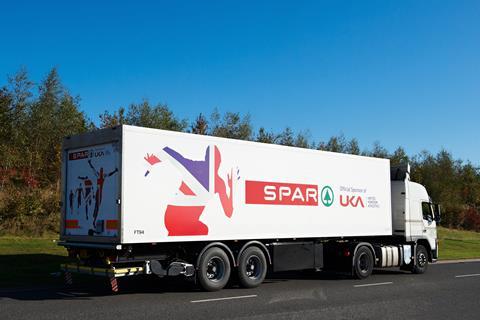 Shelves at UK convenience stores are being left empty as wholesalers struggle to cope with an escalating driver shortage.
Spar wholesaler AF Blakemore has been forced to introduce caps on the amount of products retailers are able to order as the lack of drivers has resulted in fewer wagons on the roads and therefore less space to transport goods between its depot and shops.
The Grocer understands products are also being returned to its Midlands Willenhall DC as the available drivers are running out of hours they are allowed to work. It comes as the relaxation to driver hours, which was implemented in 2020, came to an end on 31 March.
An independent Spar retailer supplied by the wholesaler said: "Our shops look horrendous. We needed 40-50 cases of Foster's last weekend and we received three. Three bags of charcoal were all we were allowed. We are really concerned. Our stores have been trading up by 40% and with the bank holiday coming up there is no way we will be able to meet demand."
The retailer added he would be forced to visit a rival cash & carry for the very first time to replenish stocks ahead of the May Day weekend.
Blakemore Wholesale Distribution MD James Russell explained the problem had been caused by both Brexit and coronavirus as drivers returned to the EU in 2020 and have not been back, compounded further by the reduction of hours drivers are legally allowed to work.
"Over recent weeks we have been subject to the same influencing factors as the rest of the industry," said Russell. "We understand via the FWD that 12% of the UK driver pool has repatriated, creating a significant shortfall of drivers. The impact of this is not proportionate across the country and our Talbot Green (South Wales) and Hastings depots are operating as normal.
"The situation is more challenging in the Midlands where the driver demand is higher. We applied the availability cap to ensure that inbound issues were mitigated and outbound deliveries were equitable across our entire customer base, whilst prioritising our independent stores and partnerships over our company-owned stores division.
"We are communicating with our customers on a daily basis, having very successfully weathered more serious challenges through the early stages of Covid last year we are confident that these short-term issues can be resolved quickly."
The issue appears to be affecting wholesalers across the board, as well as suppliers. One Londis retailer also told The Grocer he was experiencing shortages.
A spokeswoman for Booker Retail Partners, which operates the Londis symbol group, said: "We have seen some localised availability issues on certain products in one BRP depot. We are currently working hard with suppliers to resolve this and apologise to our customers for any inconvenience this has caused."
Bestway Wholesale MD Dawood Pervez agreed the driver shortage was a concern. "Drivers are hard to come by at the moment," he said.
The Grocer understands that Chris Tyas, who headed up Defra's Food Resilience Industry Forum, is working on plans to reinstate the relaxation of driver hours until June.
However, the Road Haulage Association argued this week that this would not be enough. It cited a suite of measures needed to speed up recruitment of new personnel. These included prioritisation and increased capacity for driver tests to clear the backlog that has developed during the pandemic, adding lorry drivers to the government's occupation shortage list, which would allow EU and other foreign drivers to fill some rota gaps, and further investment in apprenticeships.
"The RHA firmly believes that if the voice of the industry isn't heard there will be uncontrolled supply chain disruption," said RHA policy MD Rod McKenzie.
"This will impact many business' ability to recover from the pandemic. Time is tight and action now is critically important."