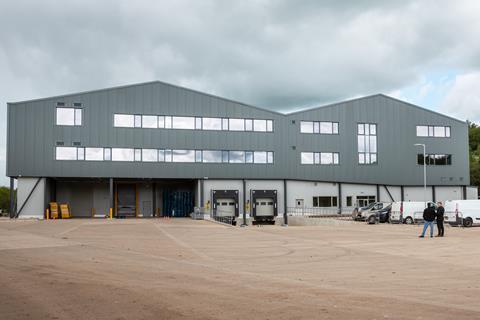 Foodservice wholesaler RD Johns has moved into its new £10.5m headquarters in Newton Abbot.
The Unitas member, which supplies customers across the south of England, said that the new 45,000sq ft facility would improve capacity and boost growth.
The new depot, which was completed by specialist cold storage contractor ISD Solutions, has room for around 1,800 ambient pallets, as well as office space for its senior team.
In preparation for the move, the business has employed over 40 new staff so far this year, taking its total to 290.
The new depot will be the wholesaler's second, sitting alongside its site just outside Bath.
Meanwhile, its old 15,000sq ft Newton Abbot headquarters will be converted into a specialist catering butchery facility.
It comes as the business, which had turnover of £25.9m in 2021, seeks to increase its number of depots and looks to become a major player in the south west.
"The new headquarters will enable us to maintain our growth and attract quality people in a fantastic environment with all the facilities that are needed," said R D Johns MD Andrew Johns.
"With our other depot in Bath, this move allows us to grow, not just in terms of capacity but also allowing expansion with key operational and business development functions – marketing, procurement, distribution, sales and so on – under one roof.
"This new facility will be our head office and the brains of the whole operation."