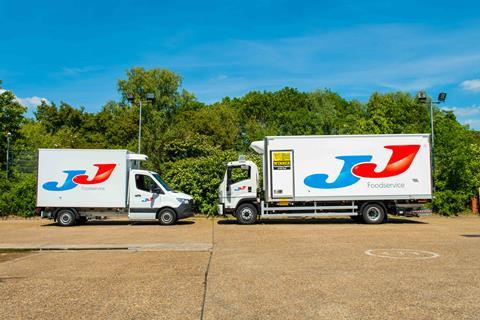 JJ Foodservice has not only mitigated the huge loss of business from hospitality customers, but managed to increase sales by 1.3% to £225m in the year to 31 December 2020.
The wholesaler put the success down to its ability to diversify its offer at the beginning of the first UK-wide lockdown to start supplying consumers directly for the first time.
"Restaurants, cafés and pubs account for the majority of our sales," said JJ Foodservice chief product officer Sezer Ozkul.
"We lost that, overnight. Within eight hours of the government announcing the first lockdown in March 2020, JJ had set up a fully operational direct-to-consumer offer."
Its DTC offer, JJ Home, launched at a time when supermarket market shelves had been stripped bare across the country by panic-buying. It set a minimum order value of £79 and dropped its B2B minimum order from £125 to match it at the same time.
Within weeks it also launched an additional fleet of 12 smaller vehicles to make residential deliveries easier.
More than 30,000 people registered for the at-home service and its overall weekly orders increased from 24,000 to 34,000.
"It was all hands on deck," said Sezer. "While the rest of the industry was in serious decline, we kept going. It's a tremendous achievement for our team."
The prolonged hospitality shutdowns have had a devasting impact on foodservice wholesalers across the UK, with some having lost up to 95% of their sales.