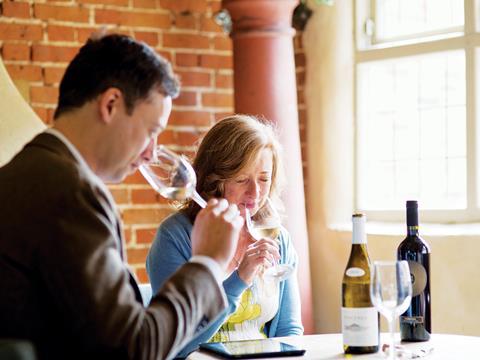 Majestic Wine has turned to its wholesale arm, Majestic Commercial, for the next step in its turnaround.
Majestic Commercial MD Olivia FitzGerald, who joined earlier this year, told The Grocer the division had "been set to one side" while Majestic Retail's three-year turnaround was prioritised.
The business has underperformed compared with Majestic Retail and Naked Wines over this period - Majestic's Christmas statement revealed a 4.6% year-on-year sales decline for the 10-week period to 1 January.
However, FitzGerald promised: "Although the last couple of years have been quite tough, now is definitely the time that we are going to get it back into growth."
Over coming weeks, Majestic Commercial plans to launch a new website optimised for sales lead generation, and within three months it plans to create automated updates for its sales force from the business's internal data warehouse.
"Every day our sales team will get a feed of data that will show them when a customer's last order was, so if someone usually orders every day but hasn't done so in a week, they will be able to phone and find out what's going on," said FitzGerald. "You may know your customer base really well, but some of our teams are looking after up to 350 accounts. Complete visibility of those 350 accounts and when they might be lapsing in their ordering is quite a tall order. This sort of automation to identify lapsed ordering will stay on top of people's pattern changes and massively help us in this department."
She also hinted at potential partnerships with tech and online restaurant booking companies to boost on-trade operators' awareness of Majestic's commercial capabilities.
"There are lots of potential partnerships that could be mutually beneficial that we haven't really explored from a commercial point of view. For example, we could have a partnership where businesses we supply wine to could be listed on a booking site we're partnered with and customers could get special offers or deals through."
Sales teams restructured
Majestic Commercial has spent the past year restructuring its sales teams geographically in line with the locations of its stores. "Our teams now mirror the stores, so everyone who is selling into the on-trade is now matched with a batch of stores," said FitzGerald.
"Often our commercial customers have a very strong relationship with the stores. And many people don't know we do commercial work until they come into a store. In the past, they might have been referred to an account manager and sometimes they'd get lost in the chain - now, hopefully, the process is a lot simpler."
It had also won new business since the collapse of booze wholesale giant Conviviality last month, she said. "We did win new business. There's obviously a bit less panic out there in the market around that business now that customers know trade is going to continue, but there has definitely been some significant wobbling. So we have seen a good boost."
It comes as Majestic announced a c£12m investment into customer acquisition earlier this month, which it claimed would raise "annual generation of future value" from £48m to £80m per year - though the business would swallow a small hit on earnings for the current financial year, with EBITDA expected to come in at c£3m, some £2m lower than previously forecast.
But it was unlikely Majestic Commercial would see any major capex in the near future, added FitzGerald.
"[CEO] Rowan Gormley's feeling is that whatever we invest in, we need to prove that there will be a return on investment. And Commercial realistically is a little bit behind Retail, and Retail in turn a bit behind Naked, in quantifying what that investment could be. The phase we're in is a little bit more test-and-learn, and we're going to try lots of things to make sure we can get that return."