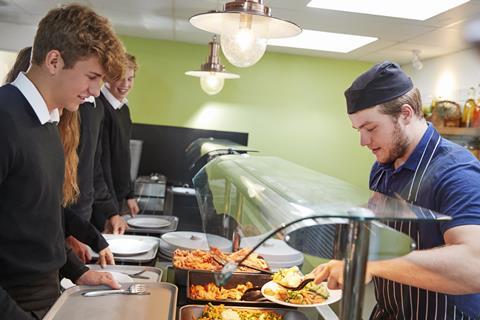 Wholesalers are at risk of being frozen out of lucrative public sector contracts under "potentially catastrophic" new government procurement plans for food and drink.
Under the new plans, the government is preparing a tender for a four-year £100m contract supplying 14,000 food and drink products for the public sector. This is to be awarded to a single operator known as a 'Prime Supplier'. It is understood this could be a consultancy, a consortium of businesses or an existing national wholesaler.
However, there is concern from within the industry that the new system may create a monopoly that could see smaller regional wholesalers, for whom the public sector is currently a core element of their business, exit the market.
The strategy has been drawn up by the government's Crown Commercial Service (part of the Cabinet Office), with the contract award scheduled in for this winter ahead of a launch in spring 2024.
CCS said the aim of the scheme was "to help public sector buyers access local and seasonal food from local SME food suppliers". However, the FWD said this failed to take into account the role its members played in working with local suppliers to get their products into public sector settings.
"It's extraordinary that CCS has gone this far without consulting the companies that keep the public sector fed and watered," said FWD CEO James Bielby. "It has shown a basic misunderstanding of the complexity of public sector contact fulfilment, and of distribution to thousands of outlets with individual needs.
"There is currently a diverse landscape of businesses supplying the public sector, where regional SMEs and larger wholesalers happily coexist. The creation of this scheme raises a very real danger that SMEs could find themselves excluded, and their customer knowledge and distribution expertise will be lost.
"Public sector food distribution is not a 'one-size-fits-all' supply chain. Regional and specialist wholesalers bring invaluable efficiencies and experience. We believe there should be a fair environment which reflects the diversity of the sector and supports growth for businesses of all sizes.
"Since 2010, the government has consistently underfunded the public sector food supply chain, and from what we have seen of the CCS framework, this is not way to improve the service. Delivery of nutritious, cost-efficient food and drink to schools, hospitals and other local authority contracts is best maintained by realistic investment in the current structure."
FWD also suggested that the plans were based on the false belief that using a single national operator would result in cheaper prices and better service compared with the current network of regional providers.
One wholesaler that specialises in public sector food provision described the CCS move as "a potentially catastrophic, landscape-changing, monopoly-creating, arguably illegal, overly simplistic single-supplier framework agreement that CCS appears to be determined to push through regardless of our concerns".
Dunsters Farm commercial director Tom Mathew said: "I'm amazed these plans are being considered as a good idea.
"It's not healthy for regional economies, the national economy or national institutions. It's very concerning that we appear to be moving in this direction."
Fairway Foodservice CEO Coral Rose said: "I think it would be impossible for one wholesaler to fulfil a contract on this scale."
A Cabinet Office spokesman said: "The new agreement will allow the public sector customers to more quickly and easily buy from local and seasonal food and drink produce, from a range of suppliers.
"This will also save taxpayer money, with savings passed on to public sector customers. "Local food producers will be available through an easy to use online portal, allowing the customer to source food produce at the right price."