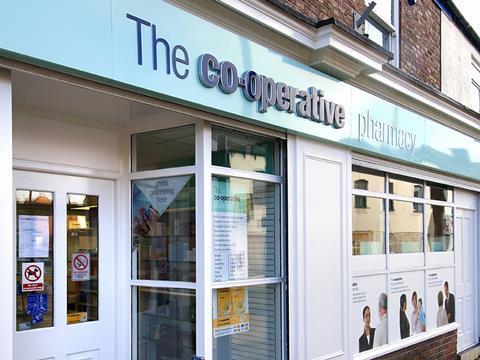 It's the UK's third-biggest wholesaler, and has major interests in banking and cement in Pakistan. But Bestway's £620m acquisition of The Co-operative Pharmacy is surprising.
The pharmacy chain was put up for sale in February by The Co-operative Group in a bid to bring down its massive £1.4bn group debt. A string of names were linked as possible bidders, including Alliance Boots, Tesco and private equity firms.
Following a week of speculation after reports at the weekend said the cash & carry giant had emerged as the surprise favourite, Bestway and The Co-op Group confirmed today (18 July) they had agreed a £620m deal. The transaction is due to complete in October.
So why does Bestway want The Co-op Pharmacy, what can we expect it to do with it, and how would the deal stack up financially?
Footfall
The immediate appeal of a successful pharmacy business is obvious. According to the National Pharmacy Association, the UK's 13,000 community pharmacies are visited two billion times a year. There are 1.6 million visits to a pharmacy every day, with 84% of adults claiming to visit one every year.
"The pharmacy world comes with added advantages - needs-based locations with needs-based footfall," says a property source. "Plus it is NHS-backed, meaning a guaranteed income stream from prescriptions."
The Co-op Group's 782-store-strong pharmacy operation has certainly performed a lot better than its grocery business. In its annual report in April, The Co-op Group said the pharmacy "outperformed the market and exceeded its prior year performance," reporting a 17.9% rise in operating profits to £33m in the year to 4 January 2014 on sales down 0.5% to £760m.
Like-for-like prescription sales were up 2.2% during the year, and over the counter like-for-likes up 1.7%.
Customer satisfaction scores were also high, running at an average of 93.4% last year, up from 93.2% in 2012.
And since 2012 a pilot branch transformation programme has seen 80 branches remodelled, and dedicated training given to staff, with a further 20 expected to be upgraded this year.
Bestway CEO Zameer Choudrey agrees: "The Co-op Pharmacy is a strong, competitive business, operating in a sector where demographic trends show an increasing demand for healthcare services among the wider community." he says.
One potential opportunity afforded by the acquisition is for Bestway to introduce groceries into stores. Although Co-op Pharmacy branches are small, some already have a limited grocery offer and there could be scope to extend this.
However, the property source says this tactic has proved hard to master. Costcutter, for example tried a joint venture with Numark in 2004. "It may be that Bestway can see a longer-term partnership between pharmacy and convenience but they might want to be wary - this has been tried, and pharmacy has different location requirements than convenience retailing."
"Bestway might need to be wary of partnering with convenience"
Pharmacy Wholesale
Another possibility is that Bestway will use the acquisition to enter pharmacy wholesale. Currently dominated by two players - Lloyds Pharmacy owner Celesio and Boots owner Alliance Healthcare, "it can be quite a difficult market to get into because of the captive customer base," says one senior City source, and it's significant that for all the buying strength of the CRTG, it sources its product from Celesio and Alliance.
The City source believes Bestway may also consider changing Co-op Pharmacy's operating model into a franchise offer - a move that may even appeal to the over 2,900 retailers in its Best-one and Best-in symbol c-store group operation as grocery sales prove sluggish (sales were up just 0.4% in its latest financial results to 30 June 2013), in the current highly competitive conditions.
But according to one retail source, Bestway's connections in Pakistan may enable the West London firm to compete effectively even against the big boys, as an outlet for generic drugs - pills and potions that can be manufactured by third-parties once the patent protections afforded to the original developer have expired.
"The generic drugs market is huge," says the source. "There's a belief they know that sector. If you know what you are doing, the money you can make is fantastic. And a lot of the generic drugs are produced in Pakistan and India. So, as well as stable earnings, strong cashflow and good growth prospects from an ageing population, Bestway's venture may prove incrementally profitable."
Choudrey says he "sees great potential to grow the business organically and through future acquisitions."
"We always look to take a long term approach and have a strong track record of successfully growing businesses that have perviously been acquired within the group," he adds. "We are confident that we will continue to do so with this business."
As part of the deal, The Co-op has agreed to provide certain services to the business for us tp 18 months, under a transitional services agreement. Bestway will also have the right to operate under The Co-operative Pharmacy brand for a transitional period of 12 months.
Step change
The £620m acquisition of Co-op Pharmacy, which has increased Bestway's turnover from £2.52bn to £3.4bn, nevertheless represents a step change in Bestway's ambition. In an interview with The Grocer in 2010 CEO Zameer Choudrey revealed the presence of a £200m "war chest" for acquisitions.
Co-op Pharmacy in figures
Sales - £760m
Profits - £33m
Staff - 6,980
Stores - 782
Price tag - £600m
Source: Co-op Group 52 w/e 4 January 2014
But a big deal has eluded the wholesaler in the UK since its acquisition of Batleys for £100m in 2005. After missing out on Londis in 2004 and making an offer for the then Nisa-Today's in 2006, in 2008 it pulled out of the due diligence process for Makro.
A 2010 spending spree did see it acquire Scottish wholesalers Bellevue Cash & Carry and Martex Cash & Carry, both for undisclosed sums. And in May this year Bestway acquired Glasgow-based wholesaler Sher Bros. But these deals are relatively small fry as Bestway has focused the majority of its investment in recent years on its Pakistan-based banking and cement businesses (which now account for two thirds of its revenue). Indeed, in March this year, it took full control of its banking arm UBL, increasing its stake by 10.3% to 61.37%, buying out its partner the Abu Dhabi Group through a $120m investment.
Bestway also has plenty of cash. Bestway Holdings had £47.4m cash at bank and in hand, while its separate Bestway Northern limited company had cash of £27.5m in its latest accounts.
On The Co-op Group's part, it plans to use the proceeds from the sale to reduce its £1.4bn debt.
"I am pleased that the agreement we have reached with Bestway reflects the quality of the business and the high level of interest from a number of bidders," says The Co-op Group interim CEO Richard Pennycook.
"Bestway is acquiring an excellent pharmacy business characterised by the quality and professionalism of colleagues and high levels of customer service. Bestway in return is an ideal owner, being a strong family-run group with a proven track-record of putting the needs of customers first.
"I expect the pharmacy business to go from strength to strength under the committed long-term ownership of Bestway and we look forward to working with them through the transition period," he adds.
A surprising deal, yes, but there are synergies, says Choudrey. "In line with our own ethos, there is a strong focus on supporting and servicing the needs of local communities within this business.
"We are delighted to be bringing The Co-op Pharmacy into the Bestway family, adding to our growing and diverse portfolio."