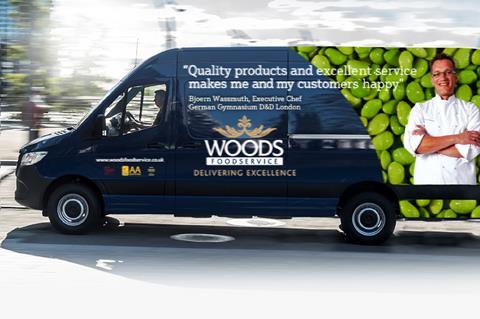 A London wholesale boss has told Boris Johnson he is willing to go to prison rather than pay business rates while other sectors benefit from relief.
Woods Foodservice MD Darren Labbett has written to the Prime Minister, who is also the local MP for the Uxbridge business, complaining of the "injustice" of the sector not being included in the rates relief dished out to its hospitality customers.
Labbett told The Grocer the decision to withhold £45,500 in business rates for September to December this year was a response to the government shunning wholesalers from the exemption which was given to hospitality outlets and supermarkets in the spring.
"If they hadn't given business rate relief to all of my customers I would have got on with it," said Labbett. "But it's not just unfair, it's wrong. We keep asking the government why we have been left out like this but they refuse to answer the question. In the grand scheme of things it's peanuts, but to us it's a lifeline."
Labbett's latest email to Johnson, dated 27 November, said: "My main issue is that all of hospitality received full rates relief for 12 months, which is just and needed."
"However, how can a business that solely supplies the hospitality industry not receive the rates relief? I feel so strongly about this issue that I can tell you now I will not be paying my rates and I am prepared to go to prison if necessary."
The Confex buying group member was obligated to pay £114k to Hillingdon council in business rates this year. However, it's due to only have paid £34k by the end of a 10-month payment schedule to January 2021.
July and August's instalments were deferred by the council to February and March 2021, but Labbett said he had no intention of meeting those deadlines either. It will bring the total unpaid bill to £80k.
The business, which turned over £19m for the year ending April 2020, lost "virtually all" its customers, predominantly fine dining restaurants in the capital, overnight on 23 March when Johnson announced the first national lockdown.
Woods is currently trading at 25% of last year's sales.
November sales were £500k, down from £2m for the same period the previous year.
This week, Labbett received a response from Johnson's constituency office Labbett confirming the rates issue has been escalated to the Treasury and is 'receiving attention'. It also offered to contact Hillingdon council to establish if there is any other financial help available to the wholesaler.
Currently there is no sector-specific financial help for wholesalers in England, a contrast with rivals in Wales and Scotland, which have been able to access more than £350m in grants.
Defra has told The Grocer consideration for funding is still ongoing, but any support is unlikely to be forthcoming before the New Year.
"The devolved administrations have led the way in recognising how important wholesale is to food supply and the eventual recovery of the hospitality sector," said FWD chief executive James Bielby.
"The UK government knows the existential threat to wholesale but, unlike the Scottish government for example, is demanding precise data to understand the precarious financial situation wholesalers face before making a financial commitment.
"FWD members have bent over backwards to help, contributing to data requests, writing to MPs and ministers, and working directly with senior Defra officials. With preparations for the end of the transition period taking over Government attention, we don't expect any action until the New Year."