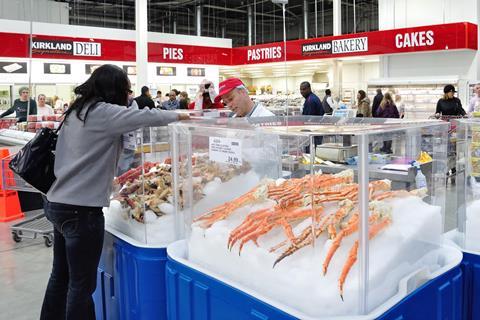 Costco's 2021 UK sales were £3.6bn, according to IGD. Not all these sales are in traditional grocery categories, but it is still surprising how little the retailer is talked about in our industry, considering its revenue is about half that of Waitrose.
Maybe it's because Costco has only 29 locations, often tucked away out of town. Maybe it's the lack of marketing media. Whatever the reason, it is flying under the radar. So is there anything we can learn from its operations?
First, Costco shows how to signal and deliver a quality fresh food experience. Much of its fresh food is prepared on site, with the prep areas visible around the exteriors of the food department (bakery, butchery and chilled convenience). These prep areas and the food section tend to be fastidiously clean and tidy. The food is well presented, mainly in transparent packs. The product is the hero and the minimal branding doesn't get in the way.
The selections of meat, fish, prepared meals and celebration cakes are impressive. There is sampling throughout the department, with colleagues talking about provenance and how and when products can be stored and used by shoppers. If you were expecting cheap and nasty, think again. This is quality.
Second, it has the confidence to do its own thing with ranging. The SKU count is small, but what it does, it does well. Whole fish, for example, is great: sides of salmon, Dover sole, huge shellfish. The red meat section is a carnivore's dream, with outrageous Tomahawk steaks and other rare cuts. Asian mangoes are given space and profile (the deliciously sweet varieties so ineffectively sold in most supermarkets). Huge Tex-Mex food platters attract the eye. Rather than just sell what everyone else sells, CostCo sells things you won't find elsewhere. When did other retailers lose focus on this?
Third, Costco goes large with pack size. There is a spirit of generosity – the opposite of shrinkflation. Take sausages. Think about what a nice big sausage for the barbecue should be, then work out what is a generous pack size. Then offer all this at the best price you can manage. The item price may be relatively high. But Costco seems to be saying "if we're going to do it, let's do it properly".
It's interesting that shoppers seem to be happy buying these very large pack sizes. It's not just huge households. Maybe Costco is a destination for parties and barbecues. Maybe people with enough freezer space are prepared to do a bit of portioning themselves. Supermarkets are doing more big pack sizes recently (eg 1.6kg packs of fresh chicken fillets). Perhaps there is more that can be done.
So Costco is an impressive operator. It gives leading retailers a run for their money in fresh food and is in fact market-leading in some respects. If it can find more sites in the right places, it will grow. But even if that doesn't happen, there is still plenty to learn from how it does business.