Co-op revs up for Fairtrade Fortnight with coffee-powered car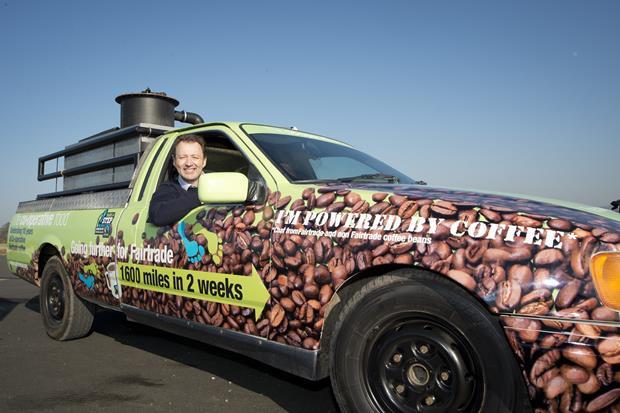 The Co-operative Group is gearing up to spread the Fairtrade message in a car powered from waste coffee beans.
The vehicle, commissioned by the society to celebrate a decade of selling a 100% Fairtrade coffee range, entered the Guinness Book of World Records yesterday as the fastest car of its kind to reach speeds of 65.5 miles per hour and will be used to educate shoppers about the importance of sustainable buying.
The car will visit 37 Co-op food stores as part of a UK tour during Fairtrade Fortnight (February 25 – March 10) where people can tweet sightings to @CooperativeFood with the hashtag #Beanmachine for a chance to win a coffee machine and ground coffee.
The vehicle, created by inventor and conservationist Martin Bacon, is run using a process of 'gasification'. Coffee chaff pellets - produced from the waste in coffee production – are heated in a charcoal fire where they break down into carbon monoxide and hydrogen. The gas is then cooled and filtered before hydrogen is combusted to drive the engine.
Steve Murrells, Co-op Group food chief executive said: "The Bean Machine's record and UK tour are a great way to get people talking about Fairtrade and how buying Fairtrade products can make a real difference to the lives of producers, their families and local communities in developing countries."
Over the past year the Co-op has seen total sales of Fairtrade products increase by 20% and earlier this month it switched its own-brand bunches of standard and single stem roses to Fairtrade.
"We are the UK's leading seller of Fairtrade products, selling three times the amount expected for a business of our size," Murrells added. "We sell Fairtrade products in every one of our 2,800 stores nationwide, making these ethical products accessible and affordable for all."