Rob Brown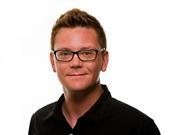 Rob joined The Grocer in 2010 as features editor. Since January, 2013, he's been overseeing The Grocer's weekly category reports and annual Britain's Biggest Brands, Biggest Alcohol Brands and Top Products features as Category Reports Editor. He also looks after our monthly digital features.

With a particular interest in consumer trends, much of Rob's role involves analysing sales data to pick out stories about how Brits are eating, drinking and shopping differently today. He regularly appears on radio and TV as a commentator and his stories are often picked up by the national press.

Having previously worked for a magazine covering the global brewing industry, Rob is particularly interested in the alcoholic drinks market. He also takes a keen interest in environmental issues facing the grocery industry. In 2012, he travelled to Singapore for an exposé of the growing global surplus of sustainably produced palm oil.


Contact Info
Tel:

01293 610268

Email:
Recent stories
Scandinavia shows ice cream growth is possible outside of sunny periods with product innovation

Frozen food is inferior to fresh, claim one in three Brits, and our squad of undercover shoppers says the frozen fixture is unclear and unhealthy. Meanwhile, freezer space in store is being squeezed. We've teamed up with retailers, brands and creative experts to find out how retailers can get shoppers skipping down the frozen aisle. Here's how… 

Snobbery is rife in the frozen food aisle, with 30% of Brits (40% in the south west) saying 'frozen food is for other people'
Recent blog posts
Heineken predicts we'll be spending more than half a billion quid a year on lower-abv beers and ciders by 2020. But does this burgeoning sector have a long-term future?

There's nothing this industry likes more at times than a good sneer. And when Ranjit Singh Boparan took control of Goodfella's Pizza in 2011 as part of his swoop on Northern Foods, certain quarters seemed to sneer in unison…

Monster is having a nightmare. But it's nothing compared with what the parents of Anais Fournier have been through since the Maryland 14-year-old died last Christmas after drinking two 680ml cans of what the brand refers to as its 'killer energy brew' in a day.
Rob Brown contributes to: