Green giants?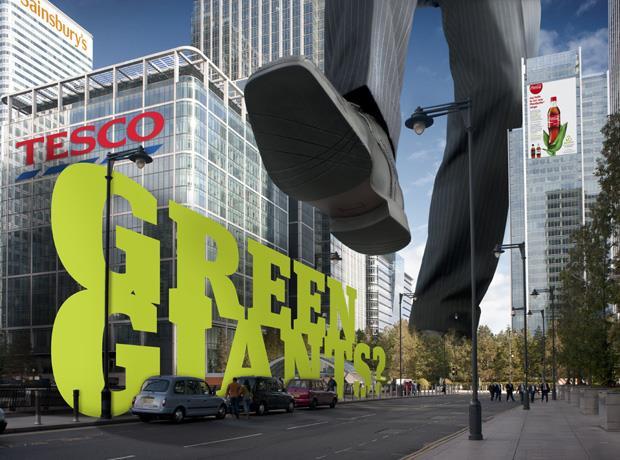 They all say they're cutting their hefty environmental footprints. But just how green are grocery's heavyweights?
The food and drink sector towers over all of Britain's other manufacturing sectors, turning over about £73bn a year and employing 15% of the UK's workforce. And its appetite is huge.
Annually it guzzles about 120 million cubic metres of water, and accounts for about 20% of the UK's CO2 emissions [Environment Agency]. Add to this the huge demands of Britain's supermarkets and grocery's overall footprint is truly gargantuan. Which is why the giants of grocery are coming under mounting pressure from government, environmental bodies and the public to make their footprints smaller.
The good news is that they've taken some giant steps in this regard. Last year, just 3% of Coca-Cola Enterprises' waste ended up in landfill and it says it's on course to becoming a 'zero waste to landfill' company imminently. M&S claims it is now 'carbon neutral' and companies such as SABMiller and PepsiCo are making strides to cut the environmental impact of not just their own operations, but those of their suppliers.
Progress indeed. But there are areas where the industry is struggling to reduce its impact. Last year, food and drink manufacturers created 2.8 million tonnes of waste - a year-on-year increase of 12% and almost one fifth of the UK's industrial total [Environment Agency]. So just how green are the giants of grocery really?
"Retailers are consistently stronger than their suppliers in packaging, waste, water and logistics"

Kate Heslegrave, partner, 4Front Consulting
The Grocer commissioned CSR specialists 4Front Consulting to find out. 4Front used three measures to rank Britain's biggest grocers and a cross section of suppliers on their green credentials: the strength of commitments made in 2007 progress towards these targets to date and the ambition of their future targets. Uniquely, it based the ranking - revealed over the next five pages - not on progress over the past year, but over the past five years, gleaning information from annual reports and CSR documents over that period.
It will come as no shock that M&S and Sainsbury's, which trumpet their green credentials extensively, come out top amongst the supermarkets. What perhaps is surprising is how far Asda ahead of the likes of Tesco, The Co-operative and Morrisons. When it comes to suppliers there's a similarly wide gulf between leaders Procter & Gamble and Unilever and laggards Kimberly-Clark and SC Johnson.
There also seems to be a distinction between the performance of the retailers compared with suppliers. Retailers appear to be leading their suppliers in the race to go green. "They are consistently stronger in relation to packaging, waste, water and logistics," says Kate Heslegrave, a partner at 4Front. "For example, the supermarkets have delivered some very strong results in reducing own-brand packaging, while most of the fmcgs are struggling to deliver such results."
Take M&S, which has slashed a quarter of its non-glass packaging use in recent years, and Sainsbury's, which has cut own-label packaging by 11% since 2009 and appears on target to achieving a 33% reduction by 2015. Last year, Asda claimed an even greater victory, saying it had achieved a 27% absolute reduction in packaging, setting it apart as the only retailer to be expressing its progress in absolute, rather than pro rata, terms.
This distinction is important. "Absolute figures don't lie," says Ian Johnson, operations manager at Coca-Cola Enterprises' Wakefield facility, the largest manufacturing and distribution centre in Europe and the world's only holder of the ISO 50001 standard for energy management. He points to CCE's progress in Europe towards making a 15% absolute reduction in energy use by 2020 and its achievement in cutting absolute water use by 6% since 2007, despite a 14% increase in output.
However, in packaging CCE is struggling to make absolute reductions. Since 2009, the amount of packaging CCE uses in the UK has actually increased by nearly 30,000 tonnes (8.1%). CCE isn't alone in conceding losses in some areas: last year Pepsi's absolute CO2 footprint increased 4.6% (although it says this due to "improved reporting") and energy efficiency per unit fell at Kimberly-Clark as a result of falling volumes.
"Our new large out-of-town store at Cheshire Oaks has a biomass boiler and our new DC has Europe's largest solar well"

Mike Barry, M&S
That's not to say anyone's dawdling. Kimberly-Clark points to its aim of cutting absolute CO2 emissions by 5% by 2015 against 2010 levels and Pepsi is due to announce a new set of environmental targets in the coming weeks. Specifically on packaging, CCE wants to cut its use 25% by 2020 - a strategy that could well see it locks horns with the supermarkets.
Last year, CCE introduced a trayless format for bulk packing PET bottles, a move it hopes will significantly cut its use of cardboard. But it met some resistance from retailers, claims Johnson. "Tesco said they wanted us to keep the trays because it saves them labour," he says. "None of the large supermarkets wanted us to do it."
This seems a tad strange given the retailers' public stance on packaging, particularly in relation to own label. "Own label products are, by their nature, our direct responsibility," says a Sainsbury's spokeswoman. "Branded suppliers are best placed to address their packaging reduction. We aim to set the benchmark for packaging reduction, proving it doesn't impact waste or sales, and support branded suppliers in packaging reduction."
The supermarkets are also keen to be seen to be taking the lead when it comes to diverting waste to landfill. In their latest reports, M&S, Sainsbury's and Tesco all say they've managed to divert all their waste from landfill. Morrisons and Asda are not far behind with respective rates of 95.7% and 93%. The Co-operative Group is significantly behind the competition, reporting a figure of 61%, although it insists it is on track to divert 100% of waste from landfill by the end of 2013.
Numbers don't tell the whole story, however, as Asda's head of corporate sustainability Julian Walker-Palin explains. "The reason we didn't achieve 100% was due to our commonsense approach to sustainability," he says. "The key issue is the lack of waste processing facilities in some of our most remote and rural areas. We could have sent these materials hundreds of miles to a facility but that would negate any carbon savings from the diversion in the first place."
"Tesco wanted us to keep cardboard trays because it saves labour. So did all the supermarkets"

Ian Johnson, Coca-Cola Enterprises
Of course, even food 'waste' has an inherent value. Eighty-eight per cent of Asda's food waste is anaerobically digested to produce energy, off-setting the retailer's carbon emissions. Sainsbury's claims it is the biggest user of anaerobic digestion (AD) of all its peers, sending all surplus that is not donated to charities like FareShare, to AD facilities.
On the supply side, waste performances vary depending on the sector. Molson Coors did very well to divert 99.2% (48k tonnes) of its waste from landfill last year. It says it will achieve zero waste to landfill status this year (organic waste from brewing like can be used as animal feed and as an ingredient for products such as Marmite). SABMiller is also trialling technology allowing it to generate energy from by-products.
When it comes to CO₂ emissions, the best performing supermarkets and suppliers are largely neck and neck. "Sainsbury's committed to reducing emissions by 25% by 2012 and Unilever established the same commitment, albeit at slightly different baselines," says Heslegrave. "Pepsi and Kimberly-Clark performed poorly in this area, with Pepsi failing to set any specific carbon reduction commitments. Among suppliers, P&G and Unilever performed strongest. Both set convincing commitments and showed they're on target."
Renewables
Renewable energy use - through the development of on-site facilities such as biomass boilers, solar panels or combined heat and power units - will play a key role in reducing the industry's emissions, although some are constrained by the nature of their business.
"We're predominantly a high street and shopping centre retailer, which of course brings challenges for renewable energy," says Mike Barry, head of sustainable business at M&S. "We've trialled and implemented where we can - for example, our new large out-of-town store at Cheshire Oaks has a biomass boiler and our new DC at Castle Donington has Europe's largest solar well. We stuck with our commitment to source 100% renewable electricity and achieved this."
Most of the competition has made similar commitments when it comes to renewable energy. "During 2011, 98% of the electricity we used came from good quality renewable sources, mainly wind and hydro technologies," says a spokesman for The Co-operative Group. "And we are developing our capacity to create renewable energy. With our second wind farm operational and two more approved by planning, we are on track to generate more than 25% of our electricity needs from our own renewable sources by 2017."
Sainsbury's too has been doing "a lot of proactive work in this area," notes Heslegrave. Such efforts are resulting in significant savings. Sainsbury's has reduced the energy bill at its Hythe store by 12% with new energy-saving technologies, which are now being rolled out to other stores.
"We could send waste hundreds of miles to a facility but that'd negate and carbon savings from the diversion "

Julian Walker-Palin, Asda
But that doesn't mean all are hitting their targets. Kraft targeted a 25% cut in emissions by the end of 2010, but achieved 18%. "Energy and manufacturing-related CO2 continue to present challenges," concedes a Kraft spokesman, adding that a host of initiatives are underway - from using spent coffee grains as an energy source to installing wind turbines - to cut emissions.
Kraft also points to its cut of 60 million road miles from its supply chain between 2005-10 as another triumph. But just how important transport is to companies' total emissions is debatable. Kimberly-Clark maintains it has a "minor impact" on its footprint and SABMiller says it accounts for just 17% of its emissions ( the biggest factors are packaging and waste, at 46%, and brewing at 25%). "This is why we are focusing on packaging, the efficiencies of our own breweries and transport," says SABMiller's head of sustainable development, Andy Wales. "Logistics are not part of our emissions target."
4Front notes SABMiller's efforts to reduce its water usage (the company has achieved a 13% cut in relative water use since 2008) and highlights P&G, PepsiCo and Unilever as setting particularly ambitious targets in this area. SC Johnson hasn't set any water reduction targets, however, and scored poorly. Brad Goodwin, MD for SC Johnson UK and Eire, says: "Programmes are underway to significantly reduce process discharges from existing levels. As a leader in resource renewal, we know this isn't good enough and we continue to look for ways to reduce our water usage and waste."
As all the grocery giants will have to if they are to hit their growth targets without increasing their footprints. "The laggards are in danger of being left behind," warns Heslegrave.
They need to catch up. And fast.
Supermarkets: 50 shades of green
M&S: 124/150
The only 'carbon neutral' grocer (although some of this is achieved by off-setting). Set boldest target on energy use - to cut store, office and warehouse use by 35% against 2006 levels by 2015. Seven stores currently generate 100% of their energy needs - a huge achievement. Since cutting 25% of non-glass packaging in 2011, it has set softer targets in packaging.
Sainsbury's: 120/150
Has set the strongest target for cutting own label packaging - to halve it by 2020, against 2005 levels - and is particularly active in renewable energy (it's working with Imperial College to develop new systems). Despite a 25% increase in floor space over the past four years, absolute energy use has fallen 9%. Claims backed up with clear evidence.
Asda: 107/150
Back in 2007, the scale of its ambition lagged that of M&S and Sainsbury's, but Asda has certainly made up for it since. It's on track to have CO2 emissions by 35% by 2015, has reduced own label packaging by 27% in absolute terms and has set the most ambitious longer-term target for emissions from logistics (of slashing them 60% by 2015 against 2005 levels).
Tesco: 88/150
A slow mover on CO2 (in 2007, emissions were unchanged on 2006), it's since caught up, targeting a 50% cut by 2020 (against 2006 levels). It's on course to hit the target. However, it also set a target to slim down own-label packaging 25% by 2010 and later lowered it to 15%, which it claims it's achieved, although there's no data to support this.
The Co-operative: 84/150
Has scored some big wins. Since 2006: it's cut CO2 by 40%, so is on course to hit its target of a 50% reduction by 2020. It has also reduced own-label packaging 19% since 2009, cut CO2 emissions from transport 40% (against 2005) and says it generated 98% of its electricity last year from renewable sources. Was marked down on relative weakness of future targets.
Morrisons: 78/150
Scored poorly on the strength of its 2007 targets and progress so far. Targeted an 8% cut in transport emissions by 2010, but made no mention of this in 2011. Did, however, cut own label packaging by 15% by 2010 and appears to be on course to send zero waste to landfill. Future targets - such as absolute 30% cut in CO2 by 2020 (against 2005) - relatively strong.
Notes: retailers were graded on five criteria - CO2 emissions packaging logistics renewable energy waste to landfill. Each area held a maximum of 30 points, based on strength of retailers' 2007 targets, progress to date and strength of future targets
Manufacturers: 50 more shades of green

P&G: 117/180
Its targets are particularly ambitious.Aims to have halved CO₂ emissions, energy-use and waste by 2020. By the same date, it wants to have cut relative road miles and packaging by a fifth and be using 30% renewable energy to power its operations. However, while it's pledged to be using 100% recycled or renewable materials in packaging, it's talked less about cutting packaging use than some of its peers.
Unilever: 104/180
Emits 55% less CO2 per tonne than it did in 1995. By 2020, it wants to have cut emissions by 63%. By the same date, it's set a target of using 40% renewable energy - rival P&G is slightly less ambitious in this field, targeting 30%. The two companies are almost neck and neck, but Unilever falls down slightly when it comes to water and packaging. Both are nevertheless significantly ahead of the rest of the field.
CCE: 89/180
In Europe, Coca-Cola Enterprises has cut its absolute water-use by 6% since 2000, despite a 14% increase in output. It also says it's on course to deliver a 15% cut in energy consumption by 2020. But despite increased use of plant-based PET and efforts to lightweight packaging - material use per litre fell from 127.6g in 2010 to 126.3g in 2011 - absolute packaging use climbed 5.9% over the year, bringing its score down.
SABMiller: 87/180
Wants to halve CO2 emissions per litre of beer by 2020 on 2008 levels by investing in renewables and improving efficiency. Has cut emissions 10% in the past year, so looks on target. It's also improved water efficiency by 13% and is targeting a 25% pro-rata reduction by 2015 (against 2008 levels). Says it's been less vocal about logistical efficiency because transport accounts for just 17% of its CO2 footprint.
PepsiCo: 78/180
Latest green achievements and goals are due to publish in the next couple of weeks (so haven't been included here). Stands out as having one of the boldest renewable energy targets - to be fossil fuel free by 2023 - and has made significant progress in reducing packaging use, particularly when it comes to Walkers and Quaker. To date, it's been less clear about how it plans to cut its overall CO2 footprint.
Kraft: 66/180
Missed target of a 25% cut in CO2 emissions by 2011 against 2005 levels. However, it's on track to cut energy use by 15% by 2015 on 2010 levels. It also cut 60 million road miles from supply chain between 2005 and 2010. Says it's made no firm commitments on renewable energy so far because it's focusing on the launch of new snack food arm Mondelez. Is promising to announce new CSR targets later this year.
Reckitt Benckiser: 62/180
Since cutting energy use by 43% per unit (against 2000 levels), Reckitt Benckiser has set no future goals in this area. But it has already hit its target of cutting its 2007 CO₂ footprint 20% by 2020, achieving a 21% cut by2011. Doesn't mention logistics in its reports. Says 25% plus of its energy comes from renewable sources - and pledges to increase this but hasn't set firm target. Vague on packaging compared with peers.
Molson Coors: 58/180
No firm 2007 targets, but Molson Coors has since stated ambitious aims. Hopes to cut energy use by 25% against 2011 levels - a cut second only to P&G. It also cut CO2 emissions by 21% between 2008 and 2012 and now wants to reduce carbon intensity by a further 15% by 2020. Despite highlighting Asda's use of rail and distributor Tradeteam's more efficient Teardrop trailers, it's set no transport aims itself.
SC Johnson: 51/180
Has set no firm commitments around water or energy use. Stronger on CO₂ emissions, but has set no firm future targets on cutting waste to landfill (despite saying this year that six facilities have reduced 90% of the waste sent to landfill). However SC Johnson is the biggest user among the suppliers of 'green' energy - 40.2% came from renewable sources in 2011. By 2016, it wants that figure to be 44%, worldwide.
Kimberly-Clark: 46/180
Use of renewable energy fell 1.1 percentage points last year to 23.9% as a result of the addition of new facilities to portfolio, says the company. Energy use per tonne of production actually increased, as a result of a 5.2% fall in production. The company has set no firm targets on logistics because it claims they only have a "minor impact" on its footprint. However, it has set a strong target on packaging reduction.

Notes: suppliers were graded on six criteria - energy efficiency; CO2 emissions; packaging; logistics; renewables; waste to landfill. Each held a maximum 30 points, based on strength of 2007 targets, progress to date and strength of future targets