Top Campaigns of the Year: 31- 40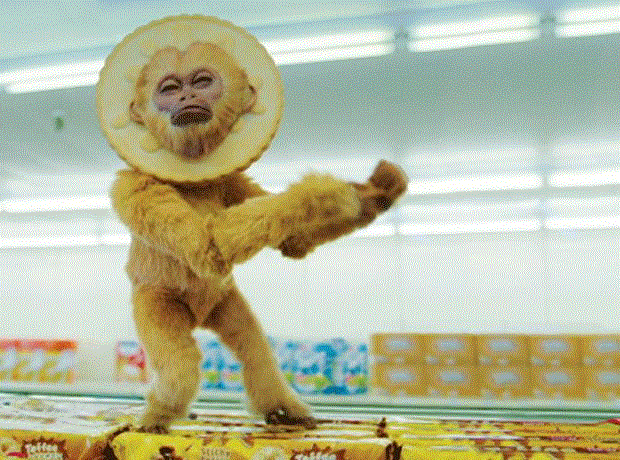 31) Duck
Toilet care
General recall: 56%
Brand linkage: 75%

A tough-looking cartoon duck quacks a bit, then squirts some toilet cleaner into an already pristine toilet bowl, all to a single phrase: 'Duck 4in1 helps remove stains even below the waterline.'
32) Cathedral City
Cheese
General recall: 55%
Brand linkage: 89%

Brian Cox hardly needed to be on Oscar-winning form for this ad for Mature Lighter - cheese on toast is impossible to see without wanting some yourself. Here, the bubbling, golden grilled treat sells itself. 32. Cathedral City
33) Burton's Dodgers
Biscuits
General recall: 55%
Brand linkage: 88%
Another ad likely to induce nightmares, this pits the Jammie and Toffee Monkeys against one another in a battle for the affections of a bewildered shopping mum. A brilliant and memorable walk on the weird side that has since spawned Facebook pages, Twitter aliases and even copycat videos - check out the dubstep version on YouTube. The first Dodgers TV ad in four years has clearly grabbed the public's imagination, quite possibly in a nasty Buñuel eyeball-slicing kind of way.
34) Magnum Mini
Handheld ice cream
General recall: 55%
Brand linkage:86%
Magnum got straight to the point with these ads showing a young woman curling up on the sofa with a Mini Liqueur ice cream. Presumably she eats the other five when the cameras have stopped rolling.
35) Green Giant
Canned vegetables
General recall: 55%
Brand linkage: 82%
With Mum starring as 'Mum', proud mum of Angelic Kid 1 and Angelic Kid 2, this ad lampoons Hollywood trailers and the idea that all women can aspire to is getting food on the plates of their brood.
36) Kenco Coffee
Instant coffee
General recall: 55%
Brand linkage: 80%
Kenco, which has cut its packaging an impressive 97%, showed the less successful outcome of trying a 100% packaging cut, with shoppers carrying coffee granules in cupped hands and pockets.
37) Lurpak
Butters & spreads
General recall: 55%
Brand linkage: 76%
These ads, voiced with effortless gravitas by Rutger Hauer, showed Lurpak going into pie crusts and cakes - and over mushrooms and spuds - as the brand continued to sell itself to foodies.
38) Cillit Bang
Surface cleaners
General recall: 55%
Brand linkage: 72%
The Reckitt Benckiser brand kept up its usual pathologically cheerful tone in this year's advert for Cillit Bang with Bleach, which made cleaning the toilet look more fun than a week at Disneyland.
39) Gaviscon
Gastric remedies
General recall:54%
Brand linkage:92%
Will Irene Cara's 'What a Feeling' ever go away? Not while there's a need for Gaviscon Strawberry antacids, it won't. This ad features strawberries falling into a white potion. And a firefighter.
40) Dove Deodrant
Deodorant
General recall: 54%
Brand linkage: 91%
Dove persuaded a bunch of young women to turn their tops inside out - revealing their chalk-free underarms but not their boobs - to demonstrate how its Invisible Dry Deodorant leaves no marks.