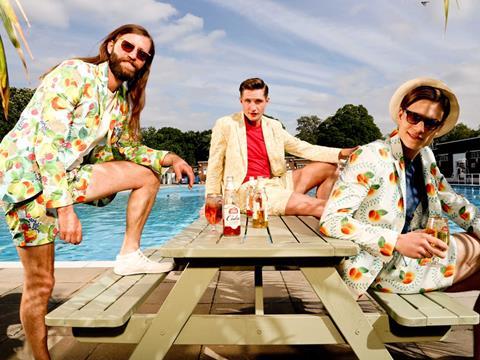 SALES: £558.8m GROWTH: -1.3%
Everyone wants a piece of you when you're number one; brands and own label. Just ask Stella Artois. Seven in 10 drinkers prefer the taste of Carlsberg Export to Stella according to Carlsberg's (4) latest ads. Lidl is playing the same trick, with its Gallereux lager prevailing over Britain's biggest booze brand in TV ad taste tests.

Not that Stella's owner AB InBev seems too bothered. "We're the number one premium lager in the UK," says UK marketing director Nick Robinson. "My priority is to continue to grow the value and equity of the brand with consumers, rather than be too concerned with anything else going on in the marketplace."

There are a few things to be concerned about in the Stella camp, after all. The brand has lost £7.2m of its value in the past year, as average price has sunk 0.9%, thanks in part to fierce deals on multipacks during the World Cup to shift volumes. They certainly helped sell more cans of beer, but at a price. Stella has sold an extra eight million litres (3.9%) of its core lager, which accounts for 83.4% of the brand's worth, in the past year, but value growth has lagged behind at 1.3%. Stella 4 appears to have paid dearly for this, with its £8.7m (22.8%) loss wiping out the £6m gain of the core lager.

"The 4.8% abv brand was our primary focus and it did have a strong year," says Robinson. "Stella 4 had a tougher time over that period. It's a lower abv lager designed for different occasions and it had a tougher time over the World Cup because of the amount of activation from other brands."

The Cidre spin-off launched in 2011 has also suffered. The brand extension (included under the Stella masterbrand in this year's report for the first time) is now worth £63.4m or 11.3% of the overall Stella brand. Value sales are down 6.6%; volumes fell 13.4%.

Cidre's overall loss - worth £4.4m, with the lion's share of that coming from the core apple cider - is down in part to the grinding halt the overall cider market has come to after years of rocketing growth (this, in turn, is partly down to lager's dominance of featured space during the World Cup). But Cidre's performance would have been much worse if it weren't for one key piece of innovation. "Cidre Raspberry has done really well," says Robinson. "It's been the most successful alcohol launch of the year and has become a key part of the brand. There's been real growth in fruit cider in the past year. We've just launched Peach and Elderflower ciders and early results are looking good."

He makes a fair point. Since launch in May 2014 the raspberry variant has racked up a cool £12.3m and, despite only being launched in February, the peach and elderflower ciders had put an extra £300k through the tills by 25 April (the cut-off point for this year's data).

The brand's arguably late arrival to fruit cider last year has been backed by big spend, with ads for the apple and pear variants starring Le Président and a new summer campaign for the fruit ciders featuring a group of the brand's target drinkers (young; hip; coiffured) sporting a novel take on pool wear (see above). "Cidre will be an important part of our focus; we've got big investment planned for 2015," says Robinson, adding that Stella lager's partnership with the Wimbledon and golf's Open will continue to be a key part of the brand's marketing strategy. The aim is simple, he adds: "We have to continue to build the value of our brands. We're committed to making sure consumers continue to see that we have strong equity in our brands so that they're prepared to pay more for them."

In today's climate that's a challenge, particularly in light of Stella lager's 2.5% dip in average price in the past year. Nevertheless, it's worth noting that despite Carlsberg's claims about Export, that beer is down 6.6% on volumes down 4.6%. And it's 5 pence a litre cheaper.

Maybe he's right not to be too bothered after all.