'Red Bull is reaching more people than ever with smart adverts'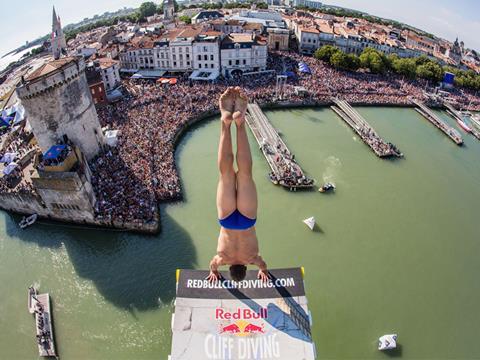 Last year: 18 ▲
Sales: £280.4m (+5.5%)
---
Every rule has an exception. The idea that consumers are turning their back on all sugary soft drinks is no different.

Here it is: Red Bull has put an extra £14.7m through the tills, making it the third fastest growing top 100 soft drink after Pepsi (7) and Monster (57). But unlike Pepsi and Monster, which are growing chiefly as a result of sugar-free options, Red Bull is being driven primarily by its unashamedly sugary core offering.

What's more, as sugar-free variants' share of most soft drink brands' sales grows, for Red Bull it's falling. A year ago, sugar-free lines accounted for 16% of its volumes; now it's 15.2%. That's not to say the main Sugar-Free line isn't growing - it's up 6.1% to £38.9m - but full-sugar is absolutely flying, up 6.8% to £229m.

It must be the wings. "We're reaching more people than ever through our classic cartoon advertising on TV and web TV while speaking to people in the moments they need a Red Bull through smart digital, print and outdoor advertising," says head of category marketing Gavin Lissimore. "On top of this, we're generating more viewers than ever before through attendees at events, visitors to our website, and viewers on Red Bull TV, all of which drive through smart advertising and communications."

As number one contributor to sports & energy category growth, the brand performed well across most channels, with Red Bull Energy drink 250ml surpassing Coca-Cola Original 500ml to become the leading UK single-serve soft drink.

Red Bull Big Cans, however, were the star performers, while Red Bull Orange Edition, launched last year, added an incremental £2.4m, and the new 355ml £1.49 can, which landed last March, also continued to deliver strong growth.

Red Bull also launched a limited-edition Culture Clash can to support its summer music event aimed at driving relevance and brand appeal with 18 to 24-year-old consumers. The on-pack promotion created a major opportunity to engage consumers with the full range of Red Bull Energy drink single cans, including the 355ml and 473ml cans and price-marked variants.

It also introduced a limited-edition Gaming four-pack last August to leverage its biggest eSports event, Red Bull 5G, tapping the £3.9bn UK gaming market. That suggests Red Bull offers more than the empty calories of sugary pop. The message is simple: Red Bull's ingredients will give you the edge when doing anything from studying to performing some of the (frankly bonkers) feats shown by the brand online (above).