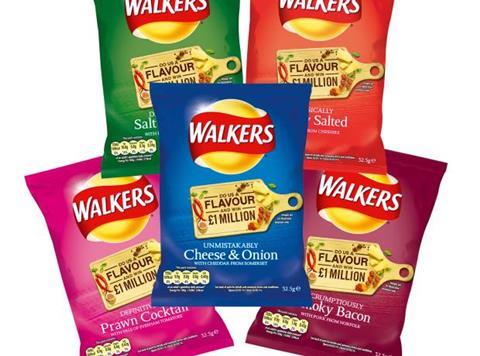 3 (3) Walkers

Sales: £650.7m +1.7%

Price increases following the disastrous potato crop of 2012 have flattered Walkers' performance over the past year. Unit sales of Britain's biggest snack brand have fallen by almost the same measure as its value increase and the brand's average price has risen 3.3%.

Walkers has been working hard to justify the price rises, nevertheless. Throughout 2013 brand owner PepsiCo ran the Walkers Home Grown campaign - the brand's 'biggest ever' television, digital and in-store activity - featuring longstanding brand ambassador Gary Lineker and including the addition of provenance claims to the ingredients in the standard Walkers line-up.

But it seems we're not that bothered whether the Cheddar in our cheese & onion crisps is from Somerset (as Walkers' is) or Slough: standard Walkers crisps have found growth particularly hard to come by in the past year.

PepsiCo is hoping to pep things up this year with the return of the Do Us a Flavour campaign, in which shoppers are invited to invent a flavour variant of the brand.

But the campaign will have a new twist, says Walkers marketing director Peter Charles: "We're offering a whopping £1m prize in this year's campaign."

Cash alone might not be enough to lure increasingly health-conscious shoppers back to the core brand, but Walkers has a trick up its sleeve for them.

The brand says it has big plans for marketing Walkers Pops - an air-popped variant unveiled in February that has half the fat of standard crisps - in 2014.

The biggest success story in the Walkers stable, however, has been Deep Ridged, which is now worth more than £50m in annual sales. For proof of how just how hard the sub-brand has hit its key corrugated competitor McCoy's.
See the complete list of Britain's 100 Biggest Grocery Brands