Alpro's growth has continued to gather pace, with the brand racking up an extra £26.7m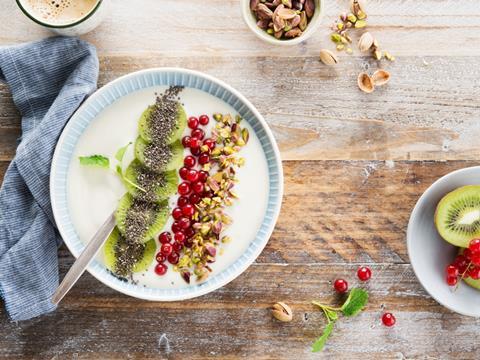 Last year: 58 ▲
Sales: £165.6m (+19.2%)
---
Alpro's growth has continued to gather pace, with the brand racking up an extra £26.7m, the year's third greatest gain after Arla (21) and Pepsi (7).

The main drivers were Alpro Unsweetened and Original milk, with sales up £11.5m (38.7%) and £5.6m (11%) respectively. NPD was also crucial, with high-protein Go On Yoghurts, plant-based Ice Cream, which entered Tesco at the end of last year, and Dessert Moments racking up £2.6m at the tills between them in their first year.

"Once again we've been growing impressively and working hard to keep pace with the demand that we have created for the plant-based category," says head of marketing Vicky Upton. "We've done that by constantly adding to our great portfolio of products, as well as producing award-winning advertising campaigns that have a halo effect for sales across our wider portfolio."

Alpro has invested heavily in educating the consumer about the benefits of plant-based products and launched a fully integrated TV, digital and PR 'Change a little, enjoy a lot' campaign focused on its Almond Unsweetened drink and Simply Plain alternative to yoghurt during the key new year period.

Alpro has also partnered with Tesco to create a new dedicated Dairy Alternatives fixture in stores nationwide following a successful trial period. Its products will also be ranged within a new Free From fixture in 55 Spar stores and will be supported with an educational leaflet for all participating retailers, as well as a special Alpro point-of-sale kit, to drive sales.