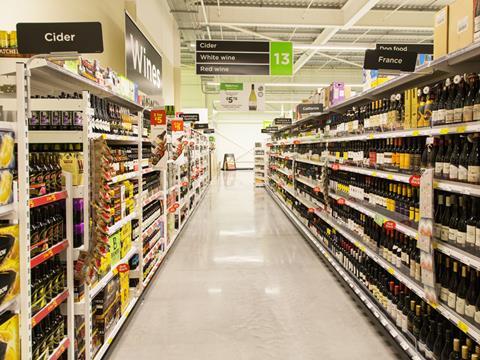 Asda has hiked the price of some of Britain's biggest fruit cider brands as new duty rises take hold.
The retailer has raised prices across a raft of SKUs from brands such as Kopparberg, Magners, Old Mout and Rekorderlig [Edge by Ascential 52 w/e 4 February 2019].
Many fruit ciders are made with artificial colours and ingredients, so HMRC classes them as 'made-wines' rather than ciders. This makes them subject to the duty rise on wine announced in the 2018 Budget.
The price of a 500ml bottle of Magners Strawberry & Lime, has risen from £2 to £2.25 in Asda, while a 440ml can of the brand's Dark Fruit variant has risen from £4.50 to £4.60. Kopparberg Mixed Fruit has risen from £2.03 to £2.05, and a 4x440ml pack of Hawksridge Dark Fruit Cider has risen from £3.10 to £3.15.
Asda has also raised the price of Aspall Premier Cru and Westons' Cloudy Scrumpy and Vintage Perry, which, thanks to their higher alcohol content (they are 7%, 7.5% and 7.4% abv respectively), fall into the new tax bracket for 'super-strength' ciders.
The government claimed the tax, which was designed with 'white' ciders in mind, would crack down on "excessive" alcohol consumption by vulnerable people. However, many cidermakers claim it unfairly penalises upmarket brands whose products are rarely consumed by such drinkers and whose drinks already command a price premium compared with many of their peers.
Both new rates came into force on 1 February. Asda declined to comment on the price rises.
Speaking at a reception for the All Party Parliamentary Cider Group this week, Aston Manor Cider CEO Gordon Johncox questioned "the government's willingness to understand the specific situations of cidermakers".
The cider trade needed "the support of politicians to work with us to return cider to more positive results, remove red tape and the unnecessary rules that limit innovation and investment," he said.