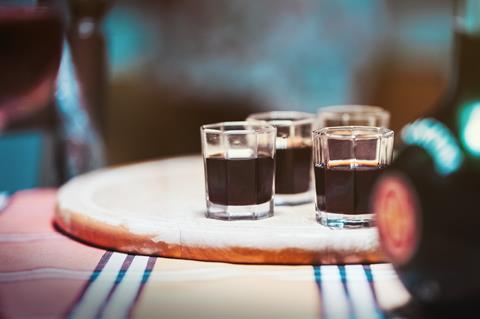 Bacardí is ceasing production of its coffee-infused tequila Patrón XO Cafe across the globe, The Grocer has learned.
The 35% abv coffee-infused liqueur, well-known as a shot in pubs and bars in the UK, is being cut by the spirits giant to focus on its core range.
Confirming the move, Patrón Tequila president and COO Mauricio Vergara told The Grocer the business wanted to focus "on growing and protecting production and supply of our core super and ultra-premium tequilas".
Production of those core SKUs: Patrón Silver, Patrón Reposado, Patrón Añejo and "other Patrón super and ultra premium variants" was "our top priority", he added.
Patrón XO Cafe has commanded a relatively small presence in UK retail, though its retail sales grew over the course of the pandemic, rising £550k to £1.9m over the year to 15 May 2021 [NielsenIQ]. At the time of writing, Patrón XO Cafe was still available from Tesco online.
Despite the delist, Vergara stressed it was "an incredibly exciting time to be in the tequila business – we are thrilled to see consumer demand for tequila continuing to explode around the world".
"Tequila is seeing rapid growth and incredible momentum – not just in the United States, but it is the second fastest-growing category in value across the globe."
Bacardi acquired Patron in a $5.1bn (£3.65bn) deal in January 2018.
A drinks industry source suggested Bacardi's decision to discontinue the drink was likely "a simple question of profit".
"Because it's not obvious to the consumer what [the drink] is, it will take a lot to investment to scale," the source said. "Without scale it'll be a very small profit contributor and not worth the effort."