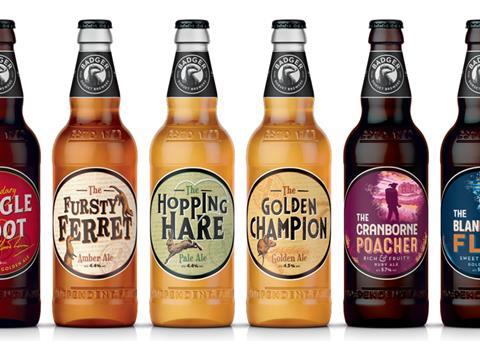 West Country brewer Hall & Woodhouse is ploughing £1.25m into a major rebrand and relaunch of Badger, its traditional ale brand.
Packs with a new logo designed to emphasise "the brand's heritage and Dorset provenance" will roll out across Badger's entire range.
New neck labels featuring the brand's mammalian mascot have been added, and the date 1777 has been embossed on bottles to play up its heritage.
The brewer's Poacher's Choice beer has been renamed The Cranborne Poacher (5.7% abv), after the Dorset village, and Blandford Flyer has been renamed Blandford Fly (5.2% abv). The revamped range also includes The Fursty Ferret (4.4% abv), The Legendary Tangle Foot (5% abv), The Golden Champion (4.5% abv) and The Hopping Hare (4.4%).
At the same time H&W has slashed the abv of two of its Badger brews – Golden Champion and the cask-packaged version of Tangle Foot – from 5% to 4.5% and 4.7% respectively. This had been done "in response to consumer drinking trends", said head of marketing and sales Gwen Ridsdale.
The revamped range has been packaged in new lightweight bottles with pressure-sensitive labels, which H&W said resulted in "a more premium finish". Tangle Foot and Fursty Ferret are also available in 500ml cans.
The brewery had "spent a lot of time listening to our customers, shoppers and consumers and took this opportunity to refocus the brand and make more of what Badger Beer stands for," said Ridsdale.
Research showed "not everyone was aware of the depth and richness" of the brand's history, she added. "Our products now contain many more references to our rich Dorset heritage."
It comes as some traditional bottled ales have suffered in the supermarkets at the hands of trendier craft beers over past years – although Badger itself has not lost any major listings,
The beer market had "moved on at pace in the last few years", explained Hall & Woodhouse MD Anthony Woodhouse, spurring on the need to make its offering "more contemporary and relevant to the evolving beer consumer".
The launch will be backed by marketing across digital, social and print channels, as well as "on and off-trade ­activation" and a new website, which went live this week.