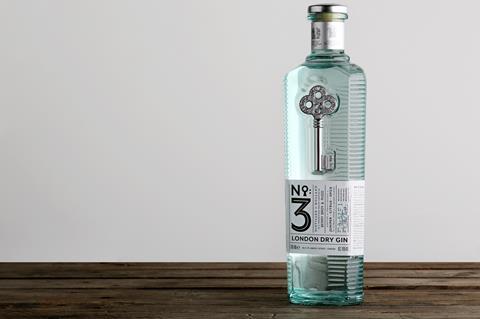 Berry Bros & Rudd has given its gin brand, No.3, a major makeover ahead of a big push into retail.
The upmarket London retailer has given the gin a new 'hexagonal' bottle designed to "reflect each of the six botanicals in the No.3 recipe", ahead of the gin's launch into a number of upmarket on-trade accounts over coming months.
This will be followed by a national launch in October.
It will be backed by a marketing push called 'The Art of Perfection', centred on "the distilling artisans behind No.3, who combine passion and precision to create the world's best gin".
The new look was "testament to this; the intricate detail and superior glass beautifully packaging our gin, which is distilled with incredible precision by our team of experts", said No.3 head of marketing Roy Evans.
"We are passionate in our pursuit to offer consumers No.3 as a beacon of undisputed quality within the congested world of gin."