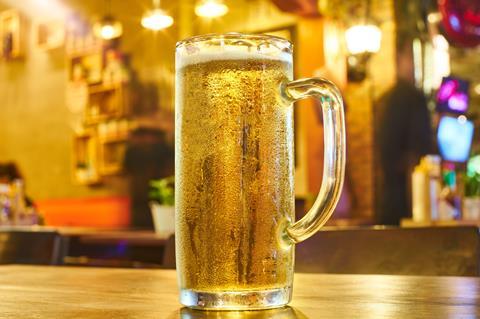 Sales of some of the UK's biggest mainstream lager brands have plunged.
Beck's has lost more than a quarter of its value over the past year, with sales down £15.8m (25.9%) to £45.3m. Budweiser's sales also fell 3.8% (£15.5m) to £393.8m [Nielsen 52 w/e 10 August 2019].
It's the first time Budweiser's sales have taken a significant dive in five years. A spokeswoman for Budweiser Brewing Group, which owns both lager brands, put Budweiser's decline down to tough comparables with 2018, when it was the official beer of the World Cup.
"If we remove the success of the FIFA World Cup campaign from the data, Budweiser has maintained its performance within the sector year on year," she said, adding BBG planned to "invest heavily" in Beck's.
Meanwhile Carlsberg's flagship pilsner, which relaunched with a new recipe five months ago, has lost 11% of its value, dropping £12.3m to £98.1m [Nielsen].
A spokesman admitted some customers weren't sold on the new 330ml cans. "We have lost some shoppers who are loyal to larger can formats."
However, he insisted the brand had performed well in recent months.
"In just five months, the brand has seen improved retail value sales, increased price per litre and increased brand health metrics," he said.
Molson Coors' Carling and Coors Light both suffered too, dropping £9m (2.9%) and £7.5m (7.6%) to £312.7m and £91.8m respectively [Nielsen].
Molson Coors brand director for Carling and Coors Light Miranda Osborne said both had grown market share over the past 12 weeks.
She added there were "strong signs that both brands are showing momentum, particularly given year-on-year data includes peak moments from last year's men's World Cup and great summer."