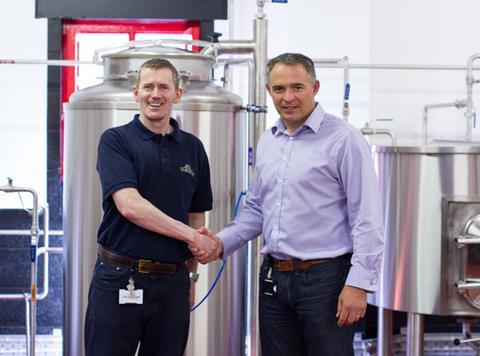 Heineken's Caledonian Brewery is aiming to up its presence in the craft beer arena with the opening of a pilot brewery at its site in Edinburgh.
The 400l capacity brewery, which was commissioned on 1 June, will produce two to three brews a week, and will allow Caledonian to test and develop recipes without the current constraints of minimum brew length.
The opening follows a 'renovation' of the brewery's core range, including Deuchars IPA and Flying Scotsman, which involved a move from using dried to fresh pack hops, as well as measures to improve consistency.
The pilot brewery is equipped to fill bottles, casks and kegs, allowing Caledonian to bring newly developed products to both the on and off trade. There is no fixed timeline in place for product launches, but Heineken said the most successful experimental brews would be scaled up for wider production in the main brewery.
"We're thrilled that our new pilot brewery, affectionately known as Wee George in a nod to our founding father George Lorimer, is up and running after 12 months of careful planning and a total investment of over £100,000," said Caledonian Brewery's MD Andy Maddock.
"This innovation allows us to remain fleet-of-foot in the market and help Caledonian enter the world of modern craft on the back of our continued success of Three Hop Lager. Our team is certainly excited about being able to indulge in their passion for crafting top quality and original brews. We've invested heavily in our core range over the last year so now that we're confident our premium traditional ales are at their very best, it's time to get a little bit creative with our beer innovation."