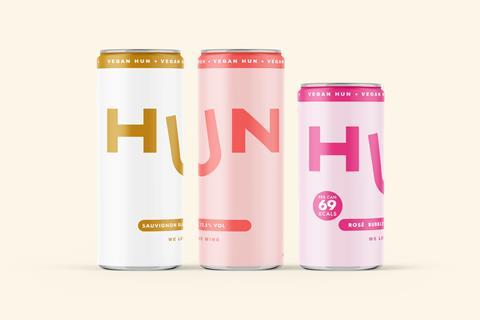 Canned wine brand Hun has been sold after falling into administration, The Grocer can reveal.
The brand, which was backed by fmcg veterans such as Waitrose executive director James Bailey and Andy Shaw, the former CEO of beer at BrewDog and MD of Red Bull UK, has been acquired by its wine supplier Origin Wine after running aground.
A letter from Hun founder Mark Woollard to Seedrs crowdfunding investors, seen by The Grocer, revealed that an "extremely tough" festival season in 2021 had necessitated calling in the administrators.
Woollard argued the mismanagement of order quantities by festivals meant Hun sat on "a huge cashflow issue" with an "un-recoupable six-figure alcohol duty bill" and a large amount of returned stock.
He said a significant investment of over £5m over the next 12 to 36 months would be needed to "unlock the marketing spend and trigger the type of growth needed to give investors a chance of meaningful exit".
As this level of investment was deemed "too high-risk", the business was going through a merger acquisition and administration process, he added.
The canned wine market, "while growing, is still extremely immature and without the hyper-growth we expected, mainly due to Covid's impact, large players choosing to invest in hard seltzer, but also supermarkets still promoting miniature bottles, among other factors, the growth hasn't met needed expectations", he said.
Hun has been bought by its wine supplier, Origin Wine, which is continuing to supply its products to retailers such as Tesco and WH Smith.
Origin Wine founder Bernard Fontannaz said he believed the brand had a "long-lasting, bright future ahead".
He added he was "absolutely convinced that canned is a format for the young customer and… a perfect format for convenience".
What happened to Hun Wines was "no fault of one person. They had a good business plan, a good brand… I think they ticked all of the boxes".
"Nobody could foresee Covid, and as it happened the business plan, and certain undertakings and investments were based on some relatively big exposure in certain music festivals, which were cancelled, through no fault of anybody."
Origin Wines was in the process of adding cues to the branding to highlight Hun's vegan and Fairtrade claims "which should translate or resonate with a younger customer", Fontannaz said.
"In a nutshell: it's business as usual, and it's a better business than ever," he said.
Hun's change of ownership comes as fellow canned wine Babe, owned by AB InBev's ZX Ventures arm, has quietly exited the UK, The Grocer can reveal.
A spokeswoman for Babe confirmed it had been discontinued and delisted in the UK at the end of 2021. Its initial UK launch in 2020 was originally "a six-month pilot, analysed against a variety of performance indicators", she said.
The brand – founded in 2016 by Instagram influencer Josh Ostrovsky, and David Oliver Cohen and Tanner Cohen (writers of Twitter account White Girl Problems) – was bought by AB InBev in 2019 in what was reported to be the brewer's biggest wine investment to date.