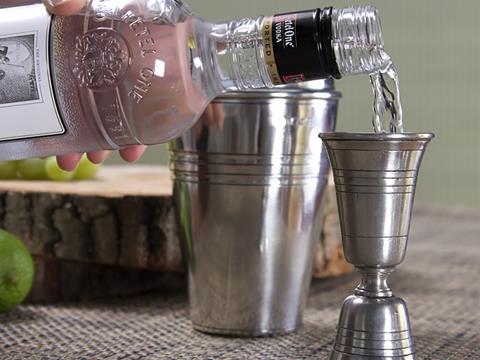 Vodka has eclipsed blended whisky to become the UK's favourite spirit, as Brits go gaga for pornstar martinis and other fancy cocktails.

Brits splashed out an extra £24.9m on voddy this year, bringing value sales up 3.3% to £775.8m on volumes up 3.3%. Blended whisky fell by £19m (-2.4%) to £763.9m, on volumes down 2.4% [Kantar Worldpanel 52 w/e 21 May 2017].

Vodka's prominence in the on-trade had "translated" into the off-trade, driving growth as customers seek to recreate their favourite cocktails at home, said Chris Shead, off-trade sales director for Pernod Ricard UK.
"We are convinced the growth in Absolut vanilla vodka correlates with the trend for espresso martinis and also passion fruit martinis, sometimes called pornstar martinis. It is a core ingredient for both of those."

Indeed, sales of Absolut are up £5.8m (12.5%) to £52m. Other winners include Grey Goose, which is up £2.8m (24%) to £14.7m, and New Amsterdam, which almost doubled its value, up £7.1m to £14.4m [IRI 52 w/e 22 July 2017].

"Vodka is highly mixable, highly versatile, it's the go-to for cocktails and it's a base for simpler mixed drinks," said Diageo off-trade sales director Guy Dodwell.

Blended whisky, meanwhile, is losing out to its Irish and American counterparts, which are increasingly viewed by shoppers as more accessible tipples. Bell's has had £20m wiped from its value, which is down 11.6% to £152m, and Teacher's is down £10.4m (42.1%) to £14.4m [IRI].

Brits have splashed out an extra £21m on American whiskey, leading to significant gains for the likes of Jack Daniel's (up £8.3m) and Jim Beam (up £9.9m).

"There are a lot of brands out there effectively competing in a very similar space, with products that command less obvious brand loyalty," said Dodwell. "Blended whisky hasn't really had a lot of new news and other categories have driven more interest and excitement among a wider group."