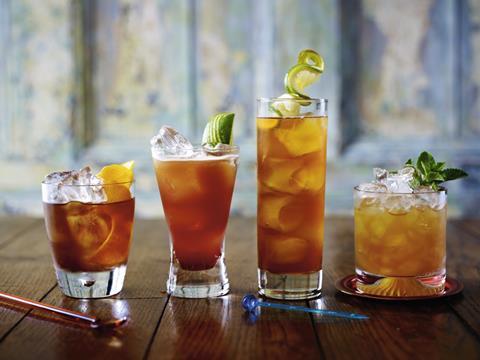 Perhaps it's because we're a monarchy that Britain is so obsessed with succession. Gin's reign of botanical terror reaches new heights every week, it seems, yet we're already sizing up the next in line to its throne.
Rum is the heir apparent, if you believe the hype. WSTA figures this week forecast a glowing 2018 for the pirate's favourite intoxicant, sales having hit £991m for the nine months to the end of September. Indeed, the WSTA expects that figure to have since exceeded £1bn.
Impressive stuff. You can practically hear the bearded throngs preparing wax seals in anticipation, as flat white-fuelled designers in flat caps ready mock-ups for faux-faded labels on pirated copies of Adobe Photoshop.
I wouldn't herald the end of the gin boom yet, though. Mother's Ruin is smashing records all over the place, with sales hitting a whopping £1.2bn by the end of September, the WSTA says. UK gin exports are now reportedly worth more than beef and cereals.
Traditionally, the rules of succession require the current monarch to be nearing their end. I doubt gin will be knocked off its throne just yet. And rum may come across further difficulties in its bid to be Britain's new favourite tipple.
Gin's success comes largely on the back of three phenomenally powerful trends: cocktail culture, premiumisation and health and wellbeing. Admittedly, there are swathes of delicious rum cocktails to enjoy, and no shortage of posher options – take the delectable Dark Matter, distilled in Scotland, for instance. But rum might struggle on its health credentials. It is – not always correctly – perceived as a sweeter or more calorific drink (the actual sugar content of different rums varies wildly).
The clean eater's drink of choice
But perception is everything. Gin has smoothly positioned itself as the clean eater's drink of choice, which, as Britain's obsession with its health continues and exuberant alcohol consumption becomes less and less fashionable, looks to have guaranteed its longevity for the foreseeable future.
And while the number of gin distilleries in the UK has grown exponentially over the past decade, with 40 opening across the country in 2016 alone, there are currently only five UK distilleries producing rum.
But who knows? 10 years ago, booze pundits could only have dreamed gin's ascendancy would carry it as far as it has. Reigns end, civilisations rise and fall. Rum's renaissance may yet break into a full stride.
I, for one, think things could get quite interesting if the age of kale-eating tonic chuggers were to give way to an era of decadent piracy.