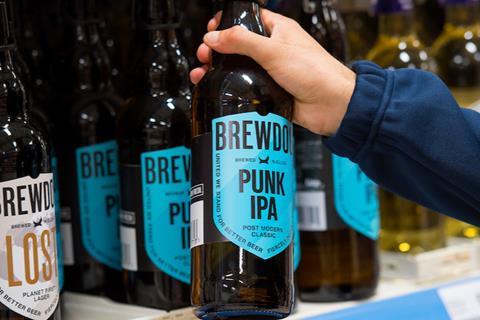 Craft beer and cider brands are distancing themselves from BrewDog in the wake of ongoing allegations about the Scottish brewery's workplace culture.
Cloudwater, which entered into a contract with BrewDog to contract brew and supply its beers to Tesco in early 2021, revealed this week it had "begun the process of winding down the contract with BrewDog early, and have notified Tesco of our decision".
"When the contract was produced, the opportunities, outlook and the context for this agreement looked very different," said Cloudwater on its website, adding it would "take time for both completion of remaining contractual negotiations and for long supply pipelines to clear".
It comes as BrewDog found itself back at the centre of controversy this week, after a BBC Disclosure documentary featuring former and current staff made fresh allegations over a "toxic culture" and criticised CEO and co-founder James Watt.
Watt has strongly denied the claims in the documentary, dismissing them as "totally false" and warning he would take legal action against the broadcaster. "Reluctantly, I am now forced to take legal action against the BBC to protect my reputation," he tweeted on Monday.
Cloudwater isn't the only business distancing itself from BrewDog in the wake of the documentary.
Queer Brewing, whose drinks were brewed at BrewDog's base through a collaboration with Cloudwater called 'Beer With Big Ideas', designed to showcase brewers from marginalised and unrepresented communities, echoed Cloudwater's comments.
It had "set to one side our discomfort of working with BrewDog with the aim of bringing about meaningful change and to provide queer visibility in beer on a larger scale" but "unfortunately this didn't come to fruition", it said.
In light of the documentary the brand "wanted to make clear our position and confirm we will not work with BrewDog again", it tweeted.
Sussex-based Ascension Cider, too, tweeted it had "respectfully asked that our cider immediately cease being sold to Hawkes taproom, or any BrewDog-owned bars".
"Our love goes out to the teams, and the members of the company who are in no way part of this culture, but JW will never profit from our products again."
Ascension Cider director Matthew Billing told The Grocer: "We pride ourselves on working with fantastic businesses within our industry, and sometimes these relationships have to be reviewed and actioned… I'd like to remind folks that we have some of the most selfless, caring and honest people in this industry, who build up their staff and seek to progress people's lives professionally and personally.
"As for others distancing themselves, it's not my business to be telling people what to do, but we felt it necessary to do so."
Allegations about BrewDog's workplace culture first emerged last year, when a group called Punks With Purpose published an open letter to BrewDog detailing the experiences of staff members.
BrewDog chairman Allan Leighton said this week the brand had "implemented a wide-ranging action plan to address the issues raised" since the publication of the letter, and that "allegations of impropriety are taken extremely seriously".
"To those former crew members for whom BrewDog failed to meet their expectations, we are sorry. To those who felt strongly enough about their experience to participate in the programme, we urge them to get in touch with our HR team or use our independent ethics hotline so we can listen and act," he added.
Watt had "provided full assurance that the BBC's claims are not accurate and are based on rumour and misinformation", Leighton said, adding that "where a complaint was raised in the US, these were fully investigated by an external third party and found to be without substance".
"James has committed to making improvements to his management style and he will continue that development under my mentorship," he said. "He has expressed considerable regret if his manner has in any way made crew feel uncomfortable – that is clearly not his intention and goes specifically against the collaborative culture we want to build."
The Grocer has approached Cloudwater for further comment.