The ad watchdog has rapped brands for 'non-permitted' claims about health
Hard seltzer is in the firing line. Last week the Advertising Standards Authority mounted a major crackdown on the fledgling category, hitting a swathe of prominent brands for making "non-permitted" health claims.
BrewDog, Drty, High Water and Whisp were all targeted as part of what the ASA called a "proactive, project-based approach to tackling issues in the round" because "we've noticed ads for hard seltzers… sometimes try to claim they are better for consumers than other alcoholic beverages".
BrewDog responded in typical fashion, its CEO James Watt claiming it was "not allowed to tell people [its hard seltzer] only has 90 calories. Even though it has." And the press were quick to angle coverage around BrewDog, given the brand's recent notoriety (it was called out by a collective of employees for having a toxic workplace culture last month).
But this isn't a story about BrewDog's antics. The success of the entire category, currently one of the fastest-growing in booze with new launches hitting the market seemingly every week, has been predicated on luring more health and calorie-conscious shoppers. That the ASA has singled it out for scrutiny could spell bad news for suppliers who have bet big on being able to do so.
So what claims did these brands actually make? Are they baseless? And with huge investment flowing into the hard seltzer sector, could this spell trouble for more suppliers down the line?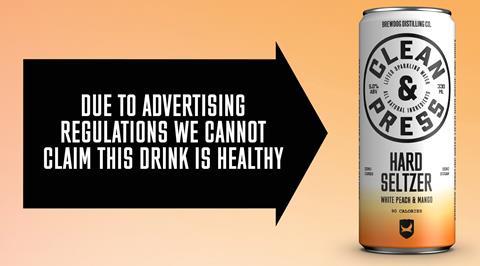 BrewDog's tongue-in-cheek ad read "due to advertising regulations we cannot claim this drink is healthy". Drty's, meanwhile, was rapped for using health-related hashtags such as #lowcalorie, #nosugardiet and #keto. Whisp drew the ASA's ire for claiming its drinks were "lightly alcoholic and low calorie" while Long Ashton's High Water brand was targeted for using the phrase "under 100 calories per can" on its website.
It's clear to see why the ASA felt it needed to act. Hard seltzer is a brand new category in the UK and, while many booze brands have been trying to tap the health trend by association, subtly marketing themselves as ingredients for 'lighter' cocktails, the hard seltzer category has put health front and centre of its marketing.
"People are looking to make [healthier] choices across all of their food and drink and booze is a part of that – it's not something you can shy away from," says Drty founder Oli Clements.
US success
After all, it was positioning itself as a less fattening alternative to beer that helped it surge to prominence in the US, where sales in the year to 13 June 2020 were worth $2.7bn [Nielsen]. "It's one of the most disruptive trends globally at the moment and a huge part of that is people drinking it because it's low in calories," says Clements.
"To ignore that is silly and short-sighted. Maybe we have the conversation and we find out it gets messy if you move any red lines. But it needs to be looked at."
There is also an argument that penalising booze brands for using calorie content as a marketing tool flies in the face of a wider push for nutritional transparency (and indeed calorie labelling) in the sector.
Read more:
"What's the point of adding calorie information if brands can't talk about their products' calories because they are 'health claims'?" says Jason Clarke, founder of lower-alcohol brewery Genius. "I think [the ASA's move] raises as many problems as it solves.
"The whole notion of prohibiting 'health claims' is no longer fit for purpose. It is too broad, too 'blanket', and denies consumers the opportunity to make comparisons between alcohol products."
That being said, it's up for debate whether a drink that rings in at 4%-5% abv – the same as full-strength beers like Heineken and Stella – should be able to portray itself as a 'lighter option'.
With ever more hard seltzers hitting the market – as well as genre-bending drinks like alcoholic kombucha – it's a debate that looks certain only to intensify.


Daniel is The Grocer's food and drink editor and is responsible for our product coverage across all fmcg categories.

Daniel has written about food and drink for the majority of his career: prior to joining The Grocer in 2017, he covered food and drink news on pub industry title The Morning Advertiser, and wrote features for VICE magazine.

Follow Daniel on Twitter: @WoolfsonExists