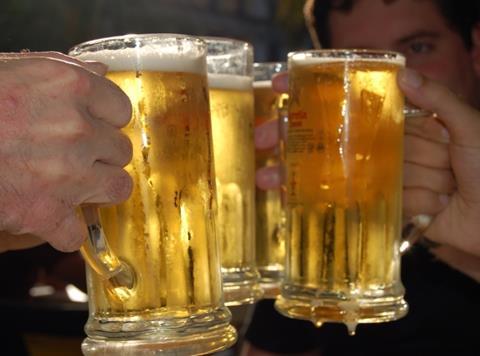 A new campaign group has been launched to represent the country's moderate drinkers in the debate around alcohol and health.
Drinkers' Voice, which will not lobby government, intends to "challenge a lot of the myths that are put out around alcohol".
The group said it would seek to further the arguments of alcohol consumers and speak up for the social and supposed health benefits of booze, while remaining independent from industry-affiliated bodies and suppliers.
The conversation was "happening at top level but no one is asking consumers their thoughts" said Drinkers' Voice national coordinator Amy O'Callaghan. "So, firstly, we have no voice and, secondly, we feel the argument is really biased. Consumers only ever read bad things about alcohol. They don't get to see that moderate drinking is good for heart health, or think about the social benefits of being able to drink with friends.
Drinkers' Voice wanted to "talk more fairly and openly" she added "We're going to challenge a lot of the myths that are put out around alcohol."
The new organisation received seed funding from the Campaign for Real Ale (CAMRA), with the consumer group's chief executive Tim Page and chairman Colin Valentine having taken up places on the Drinkers' Voice board.
This comes as CAMRA has been forced to implement "short-term cost-saving measures" over past weeks, including a cut down on lobbying the government on beer duty and scrapping membership workshops. But the decision to support Drinkers' Voice had been made "many months" before such measures became necessary, said CAMRA's head of communications Tom Stainer.
"The campaign has felt for some time that the debate, played out in the media and influential in shaping public opinion, has for too long been distorted by those who believe there is no safe level of alcohol consumption," he added. "CAMRA is aware there is a strong body of evidence that moderate consumption of alcohol has many beneficial effects, and is keen to play a part in developing awareness of the fact that responsible drinking plays a part in healthy lifestyles."
The launch of Drinkers' Voice comes as the drinks industry, including its regulatory bodies The Portman Group and Drinkaware, have been accused of downplayed the link between alcohol and cancer - especially breast cancer - with a study by the London School of Hygiene and Tropical Medicine drawing parallels with the the tobacco industry's past activities.
Drinkaware chief executive Elaine Hindal fought back against the allegations, telling The Grocer: "I don't think any consumer would think we were trying to downplay or distract from the relationship that has been evidenced between alcohol and cancer - all of our information goes through an independent medical advisory panel, and we absolutely stand by that information."
However, "the problem with the industry speaking up for alcohol is they can't say anything without people going 'of course you'd say that, you make a lot of money out of it'," O'Callaghan added.