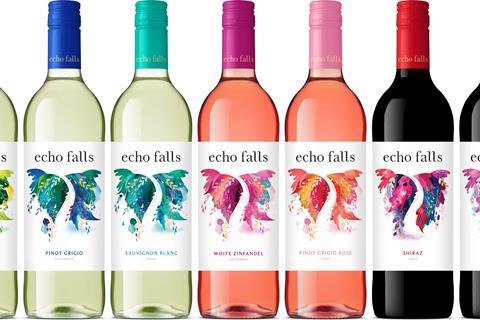 Echo Falls has rolled out a major new look across its entire range, designed to make the brand more "sophisticated" and broaden its appeal.
The new look – which first debuted last month when the brand launched a new 'Botanical Fusions' range – has now rolled out across all Echo Falls SKUs.
It would "enable us to grow our core audience (aged 30-plus) as well as recruiting new shoppers, the under-28s", said Accolade Wines European marketing manager Lydia Freeman. "We want to reaffirm Echo Falls' position as the easy-going and sociable wine, perfect for a night with friends."
The new look is one part of a £1m marketing push for the brand, which includes a consumer campaign centred around the concept "Live life to the falls".
It comes as Echo Falls has faced slipping sales over past years. At the time of The Grocer's 2019 Top Products report, the brand had haemorrhaged 15.8% of its value, dropping £25.9m to £138.4m [Nielsen 52 w/e 7 September 2019].
"A lot of younger people don't know where to start with wine and therefore are potentially lost to other alcohol categories," said Freeman.
"Echo Falls… is the perfect brand to introduce wine to a new audience, boosting penetration for the entire category and increasing the likelihood of trading up in the future."