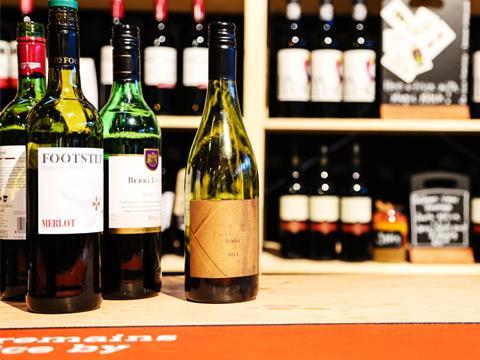 Minimum unit pricing for booze could be back on the cards for England, with Public Health England set to re-examine the evidence for introducing the controversial policy.
Junior health minister Steve Brine told the Commons yesterday that the government was "committed to tackling all alcohol-related harms" and had commissioned PHE to review evidence for introducing a minimum price in England.
The policy came into force in Scotland at the start of this month after five years of legal challenges. In 2012, then prime minister David Cameron vowed to introduce MUP in England, but abandoned his plans the following year in the face of pressure from the Treasury and the drinks trade.
It was "premature to say that [MUP] is a success" Brine told the Commons, given it had been enforced for only one week. However, the government would "welcome the opportunity to see the evidence emerge from Scotland's implementation of minimum unit pricing, and we will be watching very closely".
Brine went on to suggest there would be an evaluation of MUP in Scotland after one year, calling the policy "very welcome".
"We want to get on and tackle all avoidable harms, including alcohol," he said. "The vast majority of our constituents enjoy a drink and have a healthy relationship with alcohol, but that is not the case for everybody. Some people can harm themselves, society and, as we have heard, their children."
Christopher Snowdon, director of lifestyle economics at the Institute of Economic Affairs predicted that "in quite a short space of time, we'll have reports of remarkably large drops in various different thing such as drink driving and possibly alcohol-related deaths themselves, although they won't be in published studies. They'll probably be conference presentations or abstracts. But they'll be very widely reported."
A further push to raise the minimum price may follow, Snowdon said. "It'll probably be a long time before we get actual figures, but I imagine we will hear a lot about how it's been a tremendous success and is working better than expected, but we need to put the minimum price up to 60p or 70p and, of course, England needs to copy it."
The Grocer revealed last week that the implementation of MUP had sent prices surging by an average of 17.3% across more than 600 SKUs in the mults north of the border, with wines and own-label booze being hit the hardest [Brand View 52 w/e 3 May 2018].
'Landmark'
Advocates of MUP claim it will save hundreds of lives over coming years. Norman Loughery, off-trade sales director at C&C Group, heralded it as "a landmark" for Scotland.
"Deaths through alcohol misuse in Scotland are 54% higher than England and Wales and six times higher in the country's most deprived areas," he said. "Heavy drinkers in poverty are at the greatest risk from over-consumption and minimum unit pricing aims to tackle this group specifically."
Critics believe MUP disproportionately punishes lower-income shoppers and moderate drinkers, and misjudges how at-risk drinkers behave as consumers.
Miles Beale, chief executive of the WSTA stressed it was "vital" to review evidence carefully. "MUP has never been tried anywhere in the world, is untargeted and has already proved complex and costly to introduce. The Scottish Government's policy will increase the price of around half of the alcohol on supermarket shelves and will impact most drinkers, particularly those on lowest incomes," he said.
"The WSTA's long held view is that MUP is likely to be ineffective in changing the behaviour of problem drinkers. There are also questions about the potential impact on cross border trade and illicit alcohol."
The forecast model for MUP "significantly underestimates how much moderate drinkers will be out of pocket based on real-world experience and actual market data", added Aston Manor Cider CEO Gordon Johncox.
"If the level and pattern of drinking were to remain unchanged after 1 May, then it would cost drinkers in Scotland in the order of £150m a year. This figure is well in excess of the predictions and claims made - and it is important to recognise that this is not increased revenue to government to support the minority that drink at hazardous and harmful levels."
There were also "a host of logistical issues" around the policy, he said. "One feature of MUP already evident is the reduction in consumer choice as products are removed. This will increase as the artificial (minimum) price means a narrower price differential between value, mainstream, and premium products - the consequence of which is that ranges are reduced and consumer choice is depleted."
Indeed, some retailers have already moved to de-list products hit by the policy. JW Filshill retail director Craig Brown previously confirmed its retailers had been "working hard to remove affected lines from their range"