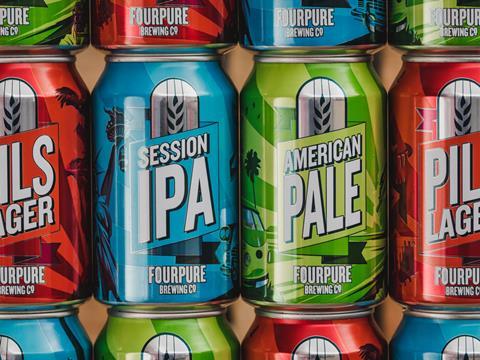 London craft brewery Fourpure plans to launch a raft of NPD and create 20 jobs, having ploughed £2.5m into its Bermondsey site.
The brewer, which has listings in M&S, Tesco, Asda and Ocado, will open its upgraded facility on 8 February, when it will unveil the latest addition to its core range, the 4% abv Easy Peeler Citrus Session IPA.
Fourpure claims the investment, which includes 12 new fermentation tanks, two grain silos and an automated malt handling system, will allow it to increase output to over 14 million pints a year - up 400% on its current production.
Its on-site taproom has also been renovated, with an eye to make it more family friendly, adding a new viewing gallery, mezzanine and glass-walled meeting rooms for corporate clients. Fourpure will look to grow its headcount to 74.
The move would grant Fourpure "the capabilities of a really big brewery" and ensure consistent quality products at a time when some craft brands were struggling to do so, said the brand's founder Daniel Lowe.
"At the moment there is a tolerance of [inconsistency] in craft. But that will change very quickly and retailers won't want to engage with businesses that can't forecast and plan properly, or have exploding cans on their shelves or deal with damaged packaging or customer returns. All those things count against you. We want to be ahead of that and better than the rest."
Further NPD will follow over 2018, including a 4.5% peach sour beer, Deep South, made with 'kettle' souring technology acquired as part of the investment, which was financed with loans from Barclays and Close Brothers.
However, Lowe insisted Fourpure was not playing a volume game. "The number one goals is not suddenly to sell more and more of the same beer. We want to use the new capabilities and capacity to brew different, innovative beers and increase our flexibility to get one-offs and limited run beers into the trade."
Lowe also backed BrewDog founder James Watt's recent calls for retailers to dedicate more chilled space to craft beers in-store. "Craft beer is a perishable good. It isn't a bag of lettuce that's going to go off in five days, but it does degrade over time. And we should be offering the best in quality."
The same went for date-coding of craft beers, he added. "Supermarkets push for 12 months and, honestly, live beer is not in a great state after 12 months. It doesn't matter what you do to it on the processing side, we have to rein dates in and we have to keep them cold."
Doing so, he said, would "give consumers the 'wow' moment when they pick something new up which is different to an industrial, manufactured lager."
Sales of Fourpure's flagship Session IPA grew by £505k (225.3%) to £729k over the last year [Nielsen 52 w/e 9 September 2017].