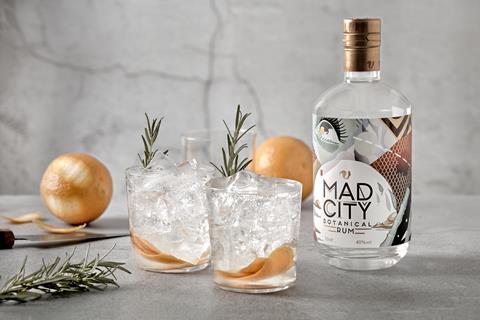 Foxhole Spirits has added a posh white rum to its range of spirits distilled with sustainable resources.
The rum, called Mad City (40% abv), uses a "unique botanical recipe" which gives it "more depth, more flavour and more complexity than ever before", the distillery said.
It uses a blend of 100% Fairtrade-certified rums sourced from Jamaica, Guyana, the Dominican Republic and Barbados for its base, which is then enhanced with 25 botanicals it said were sustainably sourced where possible.
It is billed as having notes of mocha, citrus and tropical fruits, with hits of vanilla, warm spices and pecan nuts.
Mad City marks the distiller's first foray into rum, following its debut Foxhole Gin and its Hyke Gin, which launched last year.
It will launch on 23 July (rsp: £29/70cl).
"With Mad City we've been able to apply our skill in working with botanicals to rum and demonstrate expertise in a new category," said co-founder James Oag-Cooper.
He said the style of Mad City, with no added sugar post-distillation, put it "in a category all of its own".
Foxhole Spirits was founded in 2016 by Oag-Cooper and business partner Sam Linter, with an aim to create premium spirits with a focus on using otherwise unused resources, and in turn promoting sustainability and creativity within the drinks industry.