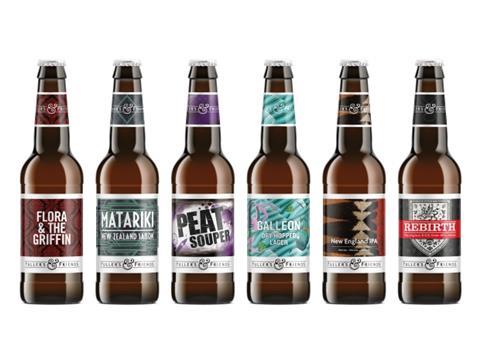 Fuller's has teamed up with six craft beer brands for a Waitrose-exclusive six-pack of new brews.
The London-based brewer collaborated with Cloudwater, Fourpure, Hardknott, Marble, Moor Beer and Thornbridge breweries, with the mixed pack set to hit the supermarket's shelves from mid-November (rsp: £12).
The range includes a dry-hopped lager (Fourpure, 4.8% abv), a New England IPA (Cloudwater, 7% abv), a smoked porter (Hardknott, 7% abv), an "homage to extra special bitter" (Moor Beer, 6% abv), and a red rye ale (Thornbridge, 7.1% abv). A different Fuller's brewer worked with each brewery on the beers' production, which took place at the Fuller's Brewery in Chiswick, London.
The project was "a great way for our young brewers to meet other brewers", said Fuller's global ambassador John Keeling. "When you form those relationships, they last all the way through your career. When you make friends and do things like this, it expands your mind better than LSD.
"We thought: 'lets brew with six different brewers and put the beers in a recipe bank' – we can re-brew these any time we want, so if the opportunity comes up to sell a special in the future we can draw from that library."
It's the latest in a long series of collaborations for Fuller's, which has spent the past decade working with an extensive roster of small-batch brands on limited-edition beers, including New Zealand's Yeastie Boys and Sheffield-based Steel City Brewing.
"Don't think this is the last we're going to do. I'm very excited to do even more of these packs," said Keeling. "I've just signed up to go to South Africa to visit a brewery called Woodstock, and I'm hoping we're going to become good friends and maybe they'll come to London and make a beer with us. And it'd be great to do one with Sierra Nevada, who we have a fantastic tie-up with."
The launch comes as sales across Fuller's' portfolio of ales were down £915k (5%) over the last year [IRI 52 w/e 22 July 2017].