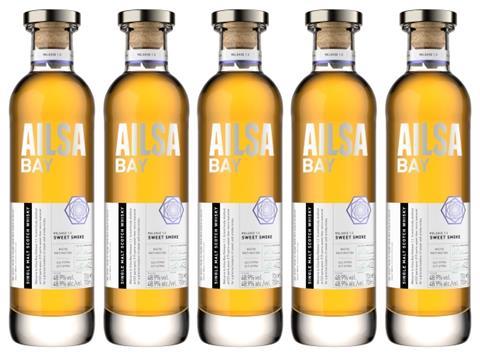 William Grant & Sons has given its peated whisky brand Ailsa Bay a complete makeover, unveiling a new liquid and refreshed packaging.
The dram has been remade with older stock from its Ayrshire distillery, which the brand said made it "more mellow and complex" and upped the SPPM (sweetness parts per million) and PPPM (phenol parts per million) of the drink significantly, rising from 11 to 19 and 21 to 22 respectively.
Its packaging, meanwhile, has been given a new "contemporary look" that "takes its inspiration from the creativity of science".
The refresh will be backed by a marketing campaign themed around "whisky for the inquisitive" when the new look Ailsa Bay hits shelves in September (rsp: £55/70cl).
"The Ailsa Bay distillery continues to allow us to develop incredible whisky through its ability to create different styles under the one roof," said the brand's master blender Brian Kinsman. "This new expression has allowed us to evolve the flavour notes and push the balance in taste without compromising on the quality of the liquid."
It follows a similar reimagining for William Grant's flagship blended whisky Grant's earlier in the summer, which was renamed Grant's Triple Wood and given two new Rum Cask and Sherry Cask 8yo variants in a move designed to broaden the appeal of the longstanding brand.