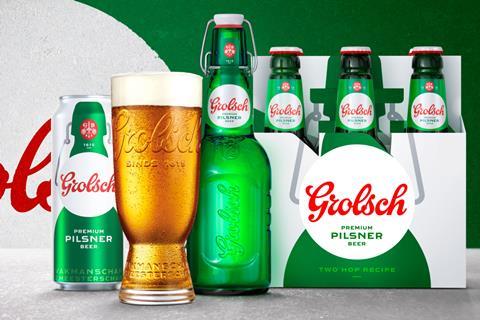 Asahi UK is resurrecting Grolsch as a lower abv "premium pilsner" – complete with swing top bottles – a year after pulling the brew from the market.
The pilsner has been given a complete rebrew at 4% abv (it previously came in at 5%) and will return to the UK from the end of October, launching into Waitrose, Sainsbury's and independents in 330ml bottles, 500ml cans and 450ml swing top bottles.
Grolsch was formerly brewed by Molson Coors through a joint venture with Asahi, which the two brewers ended last year, after The Grocer revealed its SKUs had disappeared from the supermarkets.
Asahi has moved production to the brand's original European brewery in Enschede, in the Netherlands, and completely reworked the recipe. The new Grolsch is made with Herkules and Emerald hops, pale and Dutch Aroma malt, and is brewed using a double decoction method Asahi said increased the body of the drink.
At the time the JV ended, its sales were significantly flagging, and had fallen almost a quarter 22% to £11.5m over the year to 7 September 2019 [Nielsen].
However, Asahi UK sales director Steve Young told The Grocer the new Grolsch would win shoppers over by playing up its provenance and premium credentials.
"We're coming from a position of strong base awareness. Even in spite of the [prior] performance there is very strong consumer awareness of the brand and quite a strong affinity for it. People remember it fondly. So we've got a good basis to start from.
"It's testing really strongly against the competitor set that we're looking to take on."
The beer and concept were developed almost entirely remotely. "We used a lot of digital tools, a lot of virtual meetings," said Young.
"It's useful because we can continue to develop new liquids and propositions given that our breweries are mainly outside of the UK. A lot of our liquid development could be done like this in the future."
The launch will be backed by a £3m marketing push.