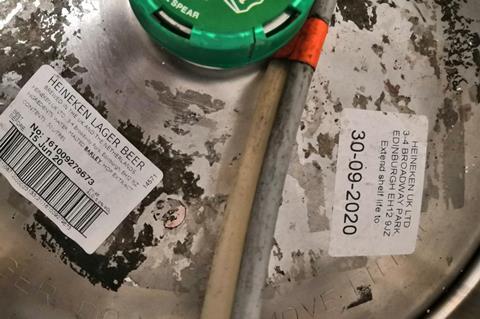 Heineken has significantly extended the shelf life of all its kegged beer sent to pubs – months after pubs were advised to destroy millions of litres of beer in their cellars.
The brewing giant this week drew criticism online from on-trade sources, who received kegs of beer with June sell-by dates that had simply been extended to later in the year.
One source in the beer supply chain to pubs told the Grocer: "I have one customer who spent three days pouring away 30 barrels of beer, then his first delivery that arrived last week has had a shorter date on it than what he destroyed".
Last month the British Beer & Pub Association mounted a massive campaign, backed by the likes of Heineken, AB InBev and Molson Coors, to help pub operators destroy unsaleable beer and claim back duty.
A Heineken spokeswoman stressed the brewer could only ensure the quality of beer that was already in its network.
"The keg beer that exists in our network has been kept in optimum conditions and what's more, has been benchmarked against reference samples to ensure it is still top quality," she said.
"We know our beer and ciders in keg are as stable as can and bottle products, which have a best before date of up to a year. We have been very transparent about extending the best before date on our kegs.
She stressed the brewer was "replacing all unbroached kegs of Heineken product for free with absolute certainty the beer is the highest quality. It is paramount for us, our customers and our consumers and we would never settle for second best when it comes to quality".
The pub industry source said the move brought into question whether beer sell by dates were fit for purpose.
Because 95% of kegs had always been returned to Heineken within three weeks of filling to be cleaned and filled again, the brewer had never had to question the dates it used, the spokeswoman added.
"Dates on kegs help licensees with stock rotation – it is a system that has worked for many years, but given the current situation it has allowed us to reassess."