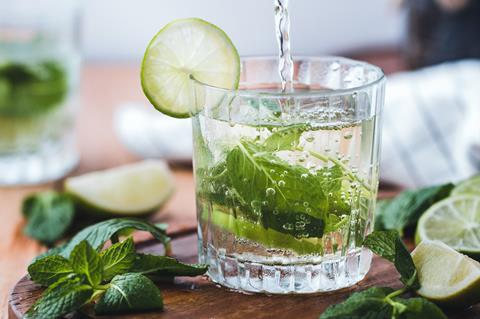 For some time, the low & no spirits category has been seriously lacking in known brands. Diageo-owned Seedlip has gone largely unchallenged as market leader.
That's not to say it's had no competition whatsoever. Numerous startups have been making headway, as well as Diageo's biggest rival Pernod Ricard, which launched its Ceders brand in 2018. But crucially, alcoholic spirits brands have been absent from the category's shelves.
In contrast, the likes of Heineken and BrewDog have been offering alcohol-free versions of their beers for years now, with much success.
This is changing: bigger names in spirits are finally launching 0% spin-offs. Warner's, for instance, which this week unveiled a duo of 'Botanic Garden' 0% spirits. Or Salcombe Distilling Co's New London Light 0%, which hit John Lewis and Master of Malt earlier this month.
Neither of these contenders have the scale of a Smirnoff, Absolut or a Whitley Neill, let alone a Gordon's (though Gordon's came out with a 0% gin & tonic-style RTD last year).
But established distillers are starting to take notice of low & no. So why now? And what does this mean for the category?
The simple answer, says Warner's founder Tom Warner, is that "making a spirit is very bloody easy compared to a non-alcoholic spirit".
"We've been working on it for about three years but we've only just got to a point where we're happy with recipe and process. Some of the early ones – do they deliver on flavour?"
One issue to overcome is the fact that removing ethanol from a drink doesn't just necessitate finding a new way to carry flavour, he says. It also means the drink is not sterile.
"It becomes exponentially harder to make a shelf-stable product. If you go into a shop and buy any non-alcoholic beer or wine, it's designed to be stored in the fridge or drunk in one go. We're trying to produce something with a 12-month shelf life closed or three months opened on a back bar."
That established spirits makers are joining the category is crucial for its "legitimacy", Warner adds.
Because Warner's is known as a gin, people will intuitively know to drink it with tonic, he says – in contrast to competitors who he believes lack clarity on how they should be served. "Because of the Warner's masterbrand, it bridges people's understanding of what to do with the liquid," he says.
"The more consumers know about something, the more they're willing to try it. Heineken 0.0 is a very simple concept and look at its massive growth. Up until now the category has lacked that."
Raising standards
Seedlip's Ben Branson is broadly supportive of the current influx of more established competitors. "It's certainly a good thing for the industry and will raise standards."
Legitimacy is crucial now more than ever, because the supermarkets are dedicating more attention to the category, he adds. "When we first went into retail in Tesco it was one shelf with us, Beck's Blue and BrewDog Nanny State. Now you have promotional periods dedicated to non-alcoholic drinks.
"[Supermarkets] have started incorporating gondola ends and testing adjacent categories where food comes in. In Ocado, you can now link Seedlip or Aecorn to searches for what to cook in the evening, or to babyfood or anything to do with pregnancy, which is brilliant for normalising it."
And while access to funding and viability in the on-trade may be causing difficulties for smaller players, many were able to grow their DTC offer in lockdown. Startup Caleño's sales, for instance, were up 330% on Amazon over lockdown, with the brand reporting its highest retail sales week ever in August.
Indeed, demand has not faltered. Sales of low & no spirits surged by a fifth (19%) to £5.4m from the start of 2020 [Nielsen w/e 15 August 2020], with Sainsbury's alone reporting a 35% spike in its sales.
Is Branson worried about the extra competition for Seedlip, then? "The gauntlet has been thrown down," he admits. "But we're available in 35 countries and 20 states in the US. And we're not running on empty in terms of ideas.
"If as a result of what we've done there are bigger bays in supermarkets and more choice, then we are doing our job."