The UK's largest wine business is going under the knife.
The Grocer exclusively revealed last week that Accolade Wines, the owner of Echo Falls and Hardys, has kicked off a 'major strategic review' that will see its EMEA base in Poland closed and combined with its UK HQ, as well as IT and finance job cuts. Its EMEA boss, Ted Popov, has been shown the door, with UK GM Ade McKeon taking greater responsibility for the new unit.
McKeon says the move will "make the business more effective" and "better utilise our scale and capability across Europe", while "freeing up resources to focus on areas of future growth" - namely Asia.
So how did Accolade end up where it is? And what is its plan?
Part of the answer lies with Brexit. When the 2016 vote sent the pound into meltdown, Accolade was suddenly forced to pay more to import its wine into the UK. It raised its cost prices and numerous delistings followed - at Morrisons and Sainsbury's in particular.
As a result it has spent the years since the vote haemorrhaging sales. While 2018 financials are not yet available, and McKeon says the business is trading "in line with our expectations", operating profits were down 77% for the year ending 30 June 2017.
But the full explanation lies further back than Brexit.Accolade is not the only supplier to have suffered after the cost of importing wine surged. Enotria & Coe, Broadland Wineries and Treasury Wine Estates have all taken knocks.
But while the likes of Treasury and Enotria owned higher-end luxury brands through which they could absorb hits to their bottom line, Accolade - at least its UK wing - never really played in the top tier. "They just don't have the profitable brands that other companies do which are completely invulnerable," says one industry source. "They had nothing to offset [the effect of Brexit] with."
Things are slowly changing: a £1m push last year has spurred Kumala back to growth. Mud House is also on the up. But neither of these are big enough to offset Hardys' huge losses.
According to our source, it's symptomatic of a historic lack of investment in premium from the company, which came into existence in its current form when private equity firm Champ bought Constellation Brands' Australian and UK business in 2011, renaming it Accolade in the process.
"I don't think Champ realised what they were buying. Constellation had some amazing brands but they hated the 'pile it high' cheapskate wine business they owned. They didn't invest in them because they thought Europe on the whole was not a place to do business or make money."
How are Accolade's brands performing?
13-Sep-16 (£m)
08-Sep-18 (£m)
change (£m)
change (%)
HARDYS
315.9
269.9
- 46.01
-15%
ECHO FALLS
188.4
155.1
- 33.34
-18%
KUMALA
67.3
62.6
- 4.62
-7%
BANROCK STATION
26.2
10.9
- 15.30
-58%
MUD HOUSE
25.0
25.7
0.74
3%
TURNER ROAD
20.4
14.8
- 5.53
-27%
Source: Nielsen 52 w/e 8 September 2018 vs 52 w/e 13 September 2016
Champ's tenure was never stable, with three CEOs - Troy Christensen, Paul Schaafsma and Michael East - in seven years. Its biggest bugbear was that Hardys could never really generate long-term growth. "If you can make Hardys work, you can make Accolade work," the source adds.
Hardys admittedly grew tremendously from 2013 to 2015, with then-boss Schaafsma rebranding it along more premium lines and developing a slew of retailer exclusives. But by April 2016, sales began to fall again. "People just weren't as interested because all the historic equity had been traded out of it, which all goes back to Constellation."
At the same time, wines that were more premium, around the £8-£9 mark, were beginning to outperform the mainstream market in the UK as the trend for 'less, but better' took hold, and smaller, more agile businesses like Yellow Tail owner Casella were ploughing millions into marketing and merchandising.
Eastern focus
Change came in spring 2018, when the Carlyle Group snapped up Accolade's entire global business from Champ for $1bn, and immediately showed it was happy to make significant changes. It hired former SAB Miller Asia Pacific MD Ari Mervis to take over as executive chairman, and has made no secret of its desire to shift the business' focus to the east.
"Australia has been very proactive in signing free trade agreements, which make trading with Asia extremely easy," says Meininger's Wine Business International editor-in-chief Felicity Carter. "China is the sleeping giant in that wine knowledge is spreading and the number of consumers coming on board is phenomenal."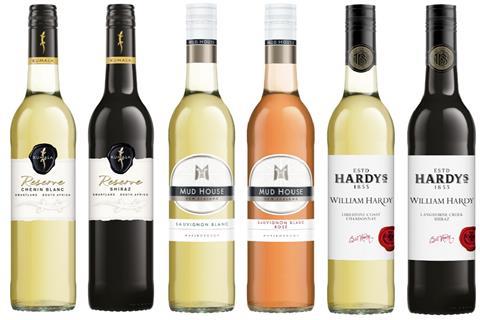 Selling into Continental Europe, meanwhile, is "really difficult", she adds. "If you're dealing with a buyer from Tesco then you're dealing with every Tesco in the UK. That's not true in markets like Holland and Germany, where you have to deal with buyers by region."
So, while making cuts closer to home, Accolade is splashing out on top-end hires in Asia. It last month hired former Treasury Wine Estates director for Asia and global travel retail, Peter Dixon, as MD for Asia.
All of which makes the UK look less fundamental to the business. Accolade's next challenge here will likely be the fallout of the 2018 Budget, which outlawed post-duty point dilution. The cost base for Echo Falls Fruit Fusions - understood to be a serious cash cow for Accolade - is likely to surge when the law comes into force in February 2020.
The sheer size of Accolade's brands and their market share in the UK means it still has time to turn its fortunes around. But given the eagerness with which its new owners seem happy to wield the knife, it had better not take too long.


Daniel is The Grocer's food and drink editor and is responsible for our product coverage across all fmcg categories.

Daniel has written about food and drink for the majority of his career: prior to joining The Grocer in 2017, he covered food and drink news on pub industry title The Morning Advertiser, and wrote features for VICE magazine.

Follow Daniel on Twitter: @WoolfsonExists