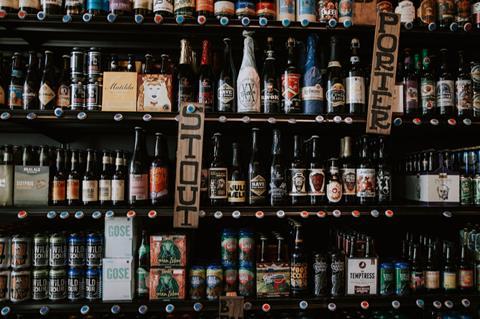 Independent craft brewers are at "breaking point" amid plummeting sales and incoming tax hikes, the Society of Independent Brewers has warned.
Craft beer sales over July stood at just 51% of what brands would have expected in a "normal year" – even despite the reopening of pubs and bars, according to a survey of craft brewers by the trade body, released today (28 September).
Production slumped, too: 68% of brewers said they remained trading but brewed fewer times. Eleven per cent temporarily closed their breweries but have since reopened, 8% remained the same throughout and 6% remained trading but didn't brew.
Only 35% of staff were back full-time after furlough, the survey revealed, with 30% back part-time.
Overall, 64% of brewers said they expected coronavirus "to have a strong negative impact on their business throughout 2020-2021", with 27% expecting a "moderate negative impact", 4% expecting a neutral impact and just 2% a moderate positive impact.
It comes as the government is poised to slash Small Brewer Relief, the progressive tax system which was introduced to offset small beer brands' high ingredient costs, allowing them to compete with bigger brands in the market.
Under current rules, brewers who make under 5,000hl of beer per year pay 50% duty. This threshold is due to be slashed to 2,199hl, meaning some brands will face significantly steeper tax bills.
Supporters of this reform, such as the Small Brewer Duty Reform Coalition, argue the current regime traps small brewers at certain stages of growth and doesn't reward investment and efficiency. Opponents, such as SIBA, argue reform is needlessly punitive and could mean the closure of countless businesses.
The combined uncertainty of tax reform and coronavirus meant more than half of brewers (58%) were delaying investment, with 51% putting off hiring new staff and 49% putting the brakes on boosting their production capacity, according to the SIBA survey.
The data "shows very clearly that breweries are delaying investment and growth as they simply do not know what their tax bill will look like in the future," said SIBA CEO James Calder.
"It is making a very difficult situation near impossible for small independent breweries across the UK – businesses which have been hit extremely hard by coronavirus."
A petition to reverse the change to Small Brewers Relief had, at the time of writing, received over 42,000 signatures.
Small Brewer Relief had "led to a revolution in brewing whilst at the same time increasing choice for consumers and introducing consumers, especially younger consumers, to new styles of beer", said MP and former pubs minister Andrew Percy.
"The changes as proposed would seriously damage what has been something of a British success story in recent years and one of the few bright spots in what has been a difficult decade for our local pubs."