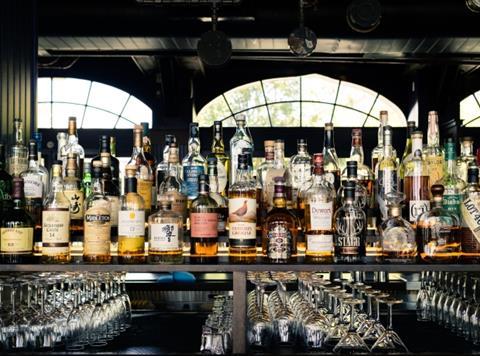 The latest scandal to hit the booze world has all the ingredients of a James Bond flick: a secret dossier, a multimillion-pound corporate giant and a bucket-load of whisky. All it's missing is the gratuitous violence and snarky one-liners…
The news I'm referring to, of course, is that Diageo, the world's biggest spirits producer, is reported by the Wall Street Journal to have commissioned a "secret task force" of sorts, to explore how the notoriously tight regulations on the production and marketing of Scotch could be changed.
Ideas drawn up by this covert squadron apparently include finishing Scotch in tequila barrels rather than sherry or cognac casks, a new category of 'Scotch whisky-infusion' drinks and lower-alcohol blends sold under existing brands. Shocking.
I suspect there's a fair amount of hyperbole being thrown around here. The Scotch Whisky Association, which is reported to have shot down Diageo's plans, can be cast either as the valiant defender of the faith or bitter bodyguard of a decrepit dogma in this tale. In reality, neither is true, and the SWA frequently meets with suppliers to discuss how the category can move forward.
Let's be honest: it's hardly Skyfall, is it?
However, it's fair to argue there is a relative lack of innovation in Scotch, compared with what has been seen in gin, beer and imported whiskey over recent years. A large part of this is down to the fact that the Scotch Whisky Regulations of 2009, designed to preserve the heritage and quality of one of the UK's most vital exports, are incredibly tight.
So while the likes of gin and craft beer have flourished thanks to the sheer amount of flavours, strengths and techniques that can be used, the options for Scotch producers are fewer. That's not to say that creating great Scotch isn't a masterful, brilliantly creative act. Just that the guidelines are stricter. Arguably, that's the price you pay to create what many view as the king of all tipples.
But UK sales of Scotch are slipping. The Grocer's Focus on Spirits report last year revealed vodka sales had overtaken those of blended Scotch, and that the top five single malt brands were all in value and volume decline.
The SWA argues tight regulations are "the solid foundation on which the industry's success is built". But some suppliers are beginning to feel stifled.
"Scotch whisky was built on a pioneering spirit in the early days, and to be straitjacketed limits our potential. Any industry that doesn't innovate risks becoming obsolete," says Eden Mill Distillery founder Paul Miller. "A loosening of regulations would enable us all to keep fresh and abreast of contemporary trends. We have so much going for us as an industry, and it would be a relatively easy remedy."
Blended Scotch
Another factor is that shoppers, now more than ever before, demand transparency. So while gin brands can sell themselves on the variety and provenance of their botanicals and spirit, and craft brewers across the nation broadcast the nitty gritty aspects of their production in almost overwhelming detail, the regulations for labelling Scotch – particularly blended Scotch – mean this isn't always possible.
"We're not even allowed to say what the constituent whiskies in the blend are, when we've got a consumer who's dying for knowledge", continues Miller. "They want to understand more and know what's in their bottle and this inability to be transparent limits that."
Nothing's likely to change any time soon, as only a smattering of producers seem to want to change the rules. Indeed, having such strict regulations means Scotch has largely been able to maintain its premium reputation – and price – domestically and especially in global travel retail, an arguably far more lucrative market than the duty-ridden, gin-mad UK.
Rather, I suspect the next wave of serious innovators will come from the growing number of English distillers waiting for their whisky stocks to mature (many of these are selling posh gin in the meantime).
Unbound by the limitations of the Scotch Whisky Regulations, it's likely this is where true experimentation will take place, although whether any of these experiments will match the great Scotch brands on taste remains to be seen.
It could go either way: the idea of Scotch "infusions" and lower-alcohol drams doesn't quite do it for me, to be honest. Then again, given the brilliant output so far of highly acclaimed distillers such as Durham, Cotswolds and The Lakes, English whisky could be poised for serious success.
For now, though, I'll take a Lagavulin 16. We do hold on to some traditions for a reason.