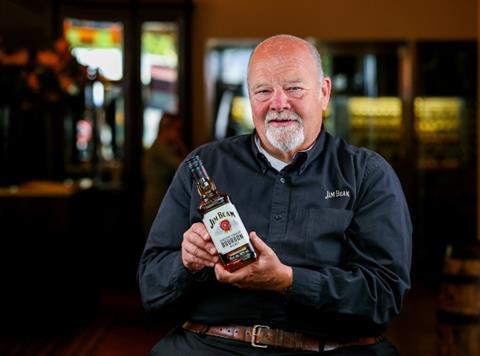 Jim Beam could be set to launch its own craft gin, with the longstanding Bourbon brand's head distiller planning to create a new experimental distillery.
Fred Noe, Jim Beam's master distiller, told The Grocer it was looking to build a new facility in Kentucky, with an eye to producing a range of small batch whiskeys and collaborative spirits with other brands.
"With a little luck and some capital expenditure we're going to create a little experimental distillery to make small runs," said Noe. "It's just about getting the right approvals from the people higher up that write the cheques."
He suggested this meant the brand could "play around" with ideas such as adding peat to bourbon production, or even creating a craft gin. "We were talking about maybe getting a gin basket to play around with some possible herbs to do a gin style," he said. "If we get this distillery built there's a good possibility. And this could be an innovation that we share with [fellow Edrington-Beam Suntory brand] Sipsmith, or get them over to collaborate on a Kentucky gin."
The global business' broad portfolio of spirits meant there were many options open for collaborative projects, he added. "We've got rum makers, tequila makers, I can see collaborations within our family of products that could really take spirits to another realm. New and exciting things they've never seen before."
It comes as Jim Beam is mounting an "ambitious" push into the off-trade over the next twelve months, with plans to grow retail sales of the brand by some 36% over the next three years.
This will include the launch of a new 20cl fractional format next month. Fractionals were "becoming increasingly important within certain spirits, adding incremental shoppers to the category" said a spokeswoman.
The brand will also relaunch the Jim Beam White carton this summer, with a 'highball' cocktail recipe printed on it. Noe has spent the past month on a global push promoting the cocktail as a way of drawing more millennial customers into the bourbon category.
"We're trying to get bartenders to promote it over the summer. When the warm weather comes, whiskey gets pushed to the back of the cabinet and the clearer stuff comes to the front. We want to show people bourbon is just as versatile and with the right mix and the right level it can play with anything."
It comes as UK sales of American whiskey are flying, growing a whopping 14.2% to £237.9km over the past year, exclusive research by The Grocer revealed last month. That's an extra £29.5m - the equivalent of an added 1.3 million litres [Nielsen 52 w/e 24 March 2018].