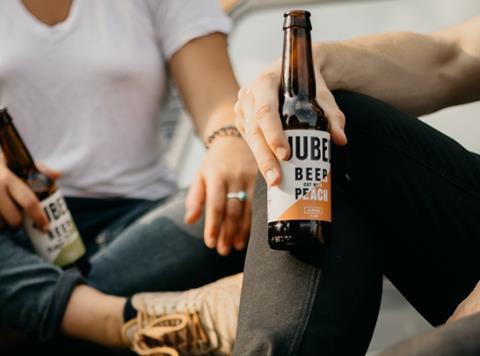 Fruit-infused craft beer brand Jubel is to make its supermarket debut after securing a major distribution deal with Sainsbury's as part of the retailer's Future Brands push.

The Cornwall-based brand, which launched into the on-trade last summer, will roll its Alpine peach beer and Urban elderflower beer (both 4%) into 600 Sainsbury's stores from 10 November (rsp: £1.80/330ml).

Both brews were "crafted to uniquely deliver the refreshment of a fruit cider, with the sessionability of a crisp lager", said Jubel, and offered a lower-sugar alternative to fruit ciders. They are vegan and gluten-free, and contain no plastic in their packaging.

Jubel's drinks are inspired by a tradition local to the French Alps called demi-pêche - the adding of sirop de pêche (peach syrup) to a pint of lager to sweeten it.

"We thought the taste of peach and lager together was delicious and most of us probably grew up on peach and barley squash so the combination felt very natural," said Jubel co-founder Jesse Wilson.

However, he added: "The sirop de pêche was still quite sweet and syrupy so despite being inspired by demi-pêche, we set out to brew an all-natural peach-infused lager that is well-balanced and delivers the refreshment of a fruit cider with the sessionability of a crisp lager.

"We achieve this by brewing a clean, crisp lager and infusing it with natural extract oils from peaches that are very freshly ripe and have more of a citrus peach character than being overly ripe, fleshy and too sweet."

The listing comes as part of Sainsbury's ongoing drive to differentiate itself by adding an increasing number of startup brands.

The retailer formed a Future Brands division explicitly for this purpose in May this year, which is headed by Rachel Eyre, previously its head of marketing planning, propositions and properties.

Jubel was "an adventurous and unconventional brand, which we believe will add an exciting addition to our range", said Sainsbury's beer, wines and spirits buyer Mathan Thiagarajah.