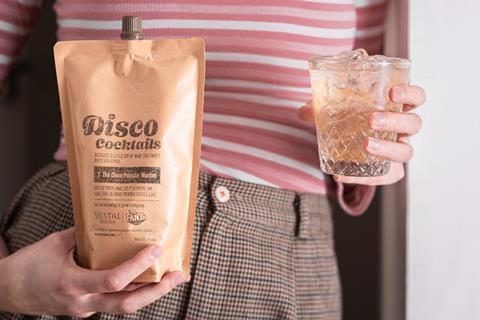 North London bar Ladies & Gents has teamed up with Halewood and Coca-Cola to launch a range of pre-mixed cocktails.
The range, called Disco Cocktails, is made using Halewood Artisanal Spirits and Coca-Cola mixers.
It comprises five SKUs, each offering a "unique take on classic cocktails", it said
They are: Disco Cherry Sour (10% abv), made with Vestal Vodka and Dr Pepper; Disco Pina Colada (11.54% abv), made with Dead Man's Fingers rum and Sprite; Disco Pornstar Martini (10.25% abv), made with Vestal Vodka and Fanta; Disco G&T (12.9% abv), made with Whitley Neill gin and Schweppes tonic; and Disco Old Fashioned (14.5% abv), which is made with American Eagle four-year-old bourbon and Coca-Cola.
The range is launching in both 100ml and 500ml formats, each packaged in a brown paper pouch and designed to fit through the letterbox.
Ladies & Gents owner William Borrell – who also owns recent Halewood investment Vestal Vodka – said like many bars, Ladies & Gents was "constantly pivoting and adapting to survive".
He said the cocktail range "added some sweet moves to our alcohol armoury" and offered a "perfect opportunity to open up to retail".
Disco Cocktails have launched via Ladies & Gents' e-commerce store, priced at £5 for a 100ml single serve, £20 for 5x100ml and £20 for 1x500ml.