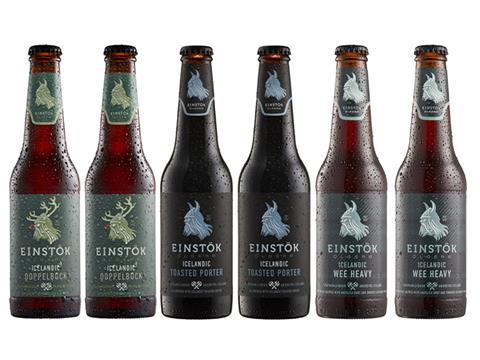 Love Drinks has boosted its craft beer portfolio with a trio of brews from Icelandic craft brewery Einstök.
The distributor has added the brand's Icelandic Toasted Porter (6% abv), Doppelbock Winter Ale (6.7% abv) and Wee Heavy (8% abv). They are available in 330ml bottles (rsp: £2.50 - £3.50).
Toasted Porter had "big notes of toffee and dark chocolate", with "a medium body that is robust, yet smooth on the palate", while the Doppelbock Winter Ale was "the perfect companion for roasted meats or a slice of rich chocolate cake", said Love Drinks.
The stronger Wee Heavy, meanwhile, was "made with locally farmed and smoked barley and spiced with native Icelandic angelica" - a herb historically used by the Vikings as a currency. The brew was "complex with a malty richness, caramel notes and a savoury smokiness to finish".
Despite having a relatively small presence so far in the UK, Einstök, based 60 miles south of the Arctic Circle in a fishing port called Akureyri, accounts for some 80% of the country's beer exports.
Einstök had "made a big impression since landing in the UK", said Love Drinks marketing manager Ellie Jones. "We're delighted to extend the range with these three sensory-rich craft beers and expect them to see strong interest from the UK's adventurous and discerning beer drinkers."